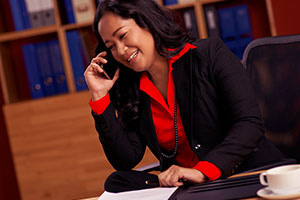 Nursing can be a demanding, high-stress profession, and some may find that after several years of working in a clinical setting, they want a change. The reasons for pursuing non-clinical nursing jobs range from high stress and long hours to an interest in more administrative or research-based roles. Regardless of whether you're looking for the next big career challenge or you just need a break from the physical demands and mental stress of providing direct patient care, these eight positions may offer the chance to put your nursing degree to work outside of a clinical setting.
Nurse Educator
Those who have established a base of nursing knowledge and experience in a clinical setting may find a career as a nurse educator to be fulfilling and a way to share their expertise with others. Nurse educators help teach and train students to become nurses and can work in a variety of settings. Some may lead hands-on clinical training in a classroom, while others teach through lectures.
In order to qualify for most nurse educator roles, you will need to have a MSN in Nursing Education degree. Employment of registered nurses is projected to grow 16 percent from 2014 to 2024. This is much faster than the average for all occupations, according to the Bureau of Labor Statistics6. As a result, there will be a continued need for educators to support that demand.
Nurse Administrators
Those who want to remain involved with clinical care but on a broader managerial level may look into nursing administration positions. These roles may include nurse manager or supervisor positions that require you to oversee a specific departments or areas of care within a larger healthcare setting. With a MSN in Nursing Administration degree, some may even be able to work up to director of nursing positions within a hospital or clinical practice.2
Patient Advocate
Patient advocates provide consulting and support for patients and their families. This may include explaining treatments and medication schedules, answering questions about care, scheduling appointments, and walking through various medical, insurance, and billing forms. Since nurse advocates must act as liaisons between patients, doctors, and other hospital staff, they may spend time in a clinical setting. However, their work is not clinical in nature since they are not directly involved in providing patient care.
Nurse Researcher
For those looking to move into a more scientific, study-based role, a nurse researcher position may be a good fit. Nurse researchers work with medical organizations, educational institutions, pharmaceutical companies, and private research groups to help facilitate clinical studies. This may involve monitoring patient progress during clinical drug testing or conducting research into how to improve the quality or efficiency of care in a particular setting.
Quality Improvement Coordinator
Quality improvement coordinators help hospitals and clinical institutions maintain a high standard of patient care while minimizing costs when possible. This often involves monitoring basic patient care procedures, designing and implementing new processes, and working with doctors and nursing staff to assess outcomes. A BSN and RN license are required for most positions, and some require an MSN.3
Nursing Informatics
As an expanding field, nursing informatics presents many options for career growth outside of a clinical setting. Informatics nurses help assess a facility's IT systems and capabilities, recommend changes and upgrades, and provide training to clinic and hospital staff on how to effectively use new systems and technology. A BSN is accepted as the minimum degree requirement for this role.
Health Policy Nurse
A health policy nurse works at an administrative level in various public and private organizations to create policies designed to make people healthier. A health policy nurse analyzes healthcare laws, regulations, and public policies, and devises strategies to change the attitudes of the public. A health policy nurse might also advocate for more effective healthcare laws or implement newly enacted health policies. A BSN and MSN degree is required for this position along with several years of experience as a nurse. A health policy residency may also be required.1
Case Management Nurse
A case management nurse is a registered nurse who oversees all aspects of patient care. They collaborate with physicians, nurses, social workers and a variety of medical and non-medical professionals to ensure patients receive the appropriate health services and resources. Job responsibilities might also include researching the latest treatment and procedures, and working with insurance companies to help patients receive the best possible care in the most cost-effective way. Case management nurses often specialize in treating specific populations, such as patients with diseases like diabetes or cancer, or patients of certain age groups like geriatrics or pediatrics. Employers require at least a BSN and RN license although a MSN is preferred.4
Remember that with a projected nursing shortage on the horizon, there may be a demand for nurses at all levels of administration and management in the near future.5 While this list is by no means exhaustive, it may give you a good jumping-off point for considering your next move.
Thinking about moving your nursing career forward? Use our tips for writing a nursing resume to help update your application materials.
---
1. NurseJournal.org, "Best Nursing Career Specialties," retrieved on 6/6/17 at http://nursejournal.org/community/20-best-nursing-career-specialties-for-the-future/.
2. GraduateNursing.org, "Nurse Administrator," retrieved on 6/6/17 at http://www.graduatenursingedu.org/nurse-administrator/.
3. Monster.com, "8 Non-Clinical Healthcare Jobs and Salaries," retrieved on 6/6/17 at http://www.monster.com/healthcare/a/non-clinical-nursing-jobs.
4. DiscoverNursing.com, "Case Management Nurse," Retrieved 6/7/17 at https://www.discovernursing.com/specialty/case-management-nurse#.WTgrPfnyu00
5. American Association of Colleges of Nursing, "Nursing Shortage Fact Sheet," retrieved on 6/6/17 at http://www.aacn.nche.edu/media-relations/fact-sheets/nursing-shortage.
6. BLS.gov, "Occupational Outlook Handbook – Registered Nurses," retrieved on 4/13/17 at https://www.bls.gov/ooh/healthcare/registered-nurses.htm