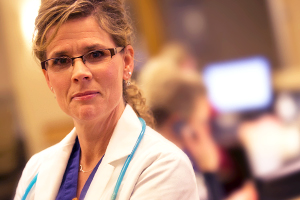 You want to convince a hiring manager that you're the best candidate for the job. To do so, you must communicate your value through your resume. But sometimes writing a resume can seem like a daunting task. Here are 10 tips that may help make your resume stand out.
Contact Information – Besides your name with nursing license credential and phone number, it is important to list a professional email address. An example of a professional email address might contain your first initial and last name, or a similar combination. Often times, nursing recruiters contact applicants via email first.
Objective – Although optional, it's always helpful to tell an employer your objective, whether it's a position at a new hospital or applying for a nurse externship. For example: 'Objective: To provide holistic care to pediatric patients and families in an acute care oncology setting.'
Education/Relevant Coursework – List any degrees, courses and schoolwork relevant to your field.
Licenses & Certifications – List your state of licensure along with license number. List any specialty certifications here as well, such as CCRN, NE-BC, FNP-BC, to name a few.
Relevant Nursing Employment/Clinical Experience – It's important to highlight any nursing experience you might have, such as clinical experience in a hospital. If you not employed yet, list clinical experiences from your nursing program. Be sure to include dates of employment.
Skills Summary – It is important to incorporate keywords from the job posting to make sure your resume shows up when employers search their database. Some examples are pediatrics, walk-in-clinic, diagnosis, patient advocate, and phone triage and interpretation skills.
Continuing Education– Include any additional nursing continuing education you received through employment, internships/externships and conferences.
Professional Affiliations – Having memberships in associations relevant to nursing shows a professional commitment and a desire to network with other professionals in nursing. Popular organizations include American Nurses Association, Emergency Nurses Associations, and American Association of Critical Care Nurses, to name a few.
Volunteer Work – Make sure to include any volunteer work, as it shows a desire to give back to your community. This also gives the employer a glimpse of your personality and interests outside of work, for example: Food Pantry Volunteer, Nursing Home Volunteer, Dog Shelter Volunteer, etc.
Other Employment Experience – Make sure to include employment experience outside of healthcare that you feel could be relevant to the employer, like Administrative Assistant, Office Coordinator or Data Entry jobs.
Sometimes employers go through hundreds of resumes to fill just one job, so it's critical to make sure you stand out from the rest. Remember to check your email daily after applying for a job to be sure you don't miss any potential communication from a nursing recruiter.
For more helpful tips on writing your resume and job searching, visit CTU's Career Services web pages. To learn more about CTU's CCNE-accredited Bachelor of Science in Nursing program, visit www.coloradotech.edu/bachelors/nursing.