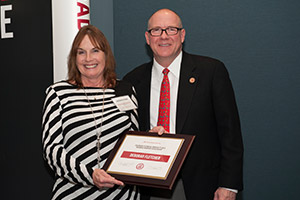 In November 2014, Deborah Fletcher was "tickled to death" to learn she had been awarded the Wounded Warrior Scholarship from Colorado Technical University (CTU) to follow her educational goals. Prior to receiving the scholarship, Fletcher spent 18 months with her wounded veteran daughter at Walter Reed National Military Center tending to her as a caregiver.
Fletcher's daughter, an active-duty Marine, was injured in an unfortunate automobile accident and suffered an amputation. Out of love and a profound sense of motherly devotion, Fletcher left her full-time catering business that she established in 1975 to care for her daughter. After a long road assisting with her daughter's mental and physical needs, Fletcher was interested in going back to school in pursuit of a new career. A member of the Yellow Ribbon Fund, Inc., encouraged her to apply for the CTU Wounded Warrior Scholarship for financial assistance.
Nearly three years later after earning the scholarship, Deborah Fletcher is approaching the end of her journey of completing an Associate of Science in Business Administration degree from CTU. "I turned 60 this year and had been out of school for 40+ years," Fletcher stated. "To get to go back to school after this many years has been awesome!"
Practical Experience in Action
With the help of the CTU Wounded Warrior Scholarship, Deborah Fletcher was able to pursue a degree that had practical usage for her chosen business career path. Throughout her pursuit of an associate's degree, Fletcher has found herself using the classes she is taking in real-world scenarios. She is currently a manager at a local restaurant chain and has used her experience from courses, such as Accounting, to better understand her financial role in the business. "You can have a better knowledge of what you're doing," Fletcher stated.
The Associate of Science in Business Administration degree at CTU also offers other every day useful coursework such as Management of Human Resources, Business Law and Introduction to Marketing. The core education classes offered for this associate's degree provides a valuable foundation of essential business administration concepts, theories and practices.
Wounded Warrior Scholarship Background
The CTU Wounded Warrior Scholarship was founded in 2008 in partnership with the Yellow Ribbon Fund, Inc. The mission of the scholarship is to provide higher-education opportunities to veteran men and women whose lives have been changed from an injury while serving in the U.S. military. As of January 2017, CTU awarded 450 full-tuition scholarships to wounded active duty service members and veterans, spouses and caregivers.
In 2014, Deborah Fletcher was the first caregiver other than a spouse to receive the scholarship. When she applied, she wasn't sure if she was eligible. However, Fletcher's story inspired the university to expand the program to include caregivers since they play an important role in the life of an injured veteran, and CTU was honored to assist Fletcher in her achieving her education goals.
For 2018 applicants, the Wounded Warrior Scholarship has been expanded to include dependents of wounded service members. Dependent requirements include college-ready unmarried children of injured service members less than 23-years-old.
CTU's President, Andrew Hurst, commented on the new scholarship outlook, stating, "Colorado Technical University is proud to assist our nation's wounded heroes and their families in the pursuit of higher education. With the inclusion of dependent applicants for the CTU Wounded Warrior Scholarship, we hope to provide much-needed relief and opportunity for the children of our wounded military service members who also make sacrifices each day."
President Hurst went on to share, "Presenting Deborah with her scholarship at the 2014 Walter Reed award ceremony was an honor. Deborah and her daughter's journey is an inspiration to military and civilian families alike that may be facing troubling times. These strong women both show true perseverance and an appreciation for life. CTU is committed to assisting wounded military veterans and their families achieve their goals and pursue a bright future."
Looking Into the Future
Caregivers like Deborah Fletcher warrant recognition for their commitment to wounded veterans and set an example of selflessness and understanding for others to follow. Now that she has almost completed her associate's degree with CTU, projected for early 2018, she finds herself entertaining the thought of seeking a bachelor's degree.
Fletcher's daughter is also pursuing impressive plans for her future. She is working on founding a service dog training program for fellow wounded veterans and others in need. Fletcher is proud of her daughter's progress and goals, and she will continue to offer unwavering support.
Apply for the CTU Wounded Warrior Scholarship
Colorado Technical University is pleased to have awarded a total of $7.3 million in Wounded Warrior Scholarships as of January 2017. The University is proud to offer a scholarship which covers full-tuition for any eligible CTU degree program to wounded service members, spouses, caregivers and dependents through this program. Previous recipients of the scholarship are eligible to reapply and may be awarded up to two times. Learn more about CTU's Wounded Warrior Scholarship. Applications for the 2018 scholarship year are due by July 31, 2017.
REQ1213148