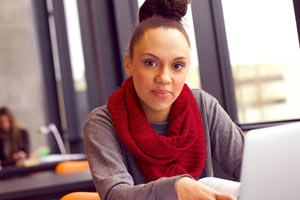 Discipline. Preparation. Time management. If you're an online student, you need an edge to balance all your responsibilities while completing a degree. That's why a back to school checklist can be instrumental in helping you conquer the next level of education. Using it will help you be more organized, feel confident and be prepared to do it all, and do it well.
Back to School Checklist for Online Students
Plan Your Study Time: Many online students are juggling their educational pursuits with full-time jobs and family obligations, making it all the more crucial to schedule some time alone to study. Online courses let you pursue your education at times that more traditional schools might not, so it's important to take initiative in creating time to make the most of it.
Need to slip in even more study time? Make homework time a family nightly routine. Have household members studying together at the same time, right after school or right after dinner. You'll also be a great role model for family members!
Create a Study Space: Almost as important as making the time to study is creating a space in which you can study effectively. When it's time to do schoolwork, try to study in a secluded place that's free of distractions — get away from televisions, gadgets, and turn off your cell phone —all you need is your computer and any other school-related materials. Make sure you place your chair so that your view doesn't show dirty dishes or other family obligations. You need to focus on you and your studies to be your best.
You also may want to include something on your desk that keeps you motivated, from an underwhelming paycheck to a photo of who you want to become, or an object that brings you good luck. Add whatever you need to keep the positive energy flowing when you're studying.
Reach Out to Your Instructors: Just because you're an online student doesn't mean that you can't reach out to your instructors. If you have questions about your classes — whether it's before school starts or during class — don't be afraid to ask questions. This personal contact can help you feel connected to the class, the professor and feel responsible for keeping up. That said, you also have to be willing to look for answers on your own — be resourceful, but don't be afraid to ask for help when you really need it!
Familiarize Yourself With intellipath®: intellipath® is Colorado Technical University's personalized learning system, and you should make an effort to familiarize yourself with it before you begin taking classes. Especially since intellipath® is amazing! Through a series of questions, adaptive learning technology recognizes what you already know, anticipates what you're ready to learn and tailors your course materials accordingly. You'll have the latest technology helping you learn the course materials. Taking online classes can be a bit of an adjustment, so it's important to make sure you understand all of the tools at your disposal in addition to managing your time effectively.
Install the CTU Mobile App: As an online student, it's important to take advantage of all the resources your school makes available to help you get organized and stay that way. Does your school offer any apps to help you keep organized? CTU does. The CTU Mobile app allows you to check assignments, participate in live chats, send emails to your instructors, and track progress toward your degree. It's a huge time-saver when you can keep up on classes as you wait for the bus, wait for your child's soccer game to conclude, or wait for your dentist appointment. Anytime becomes study time.
The exact items on your back to school checklist will vary according to how you work most effectively. What we've covered is a basic blueprint of how to approach the task of continuing your education — but now that you have it, make the most of it. And, make going back to school successful from day one.