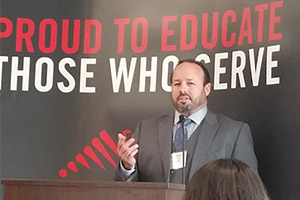 Recently two ceremonies were held that acted as the culmination of the 2016 Colorado Technical University Wounded Warrior Scholarship program. Held in two locations, these events highlighted CTU's dedication to the scholarship winners and the military community as a whole.
CTU Gathers with Award-Winners at Fort Carson
On Thursday, November 19, members of CTU's staff and faculty, as well as members of CTU's Student Veteran's Organization (SVO) gathered at Fort Carson, Colorado to celebrate twelve 2016 Wounded Warrior Scholarship recipients.
Held at the Elkhorn Conference Center, this ceremony and lunch gave the 12 award recipients a chance to meet their fellow honorees, along with key Wounded Warrior Scholarship team members, like advisors Jared Frye and Kirsten Surmin. Members of the SVO were also present, along with the student senate president and other CTU Colorado Springs campus staff.
A brief lunch was held before the ceremony began. CTU's Dr. Andy Cain and Michael Midura spoke to the accomplishments of the recipients before introducing CTU President Andrew W. Hurst. Hurst made his admiration of the scholarship recipients clear in his speech, also providing a few key words of encouragement for their upcoming academic journeys.
Celebrations Continue in Bethesda
The second event celebrating Wounded Warrior scholarship award recipients was held on Tuesday, December 8, at the USO at Walter Reed National Military Medical Center, in Bethesda, Maryland. This ceremony featured nine honorees and was attended by Wounded Warrior Scholarship Selection Board members and Military Battalion Transition Coordinators from Walter Reed.
At the ceremony, Executive Director of the Yellow Ribbon Fund, Mark Robbins, spoke about the history of the Wounded Warrior scholarship. A CTU graduate and veteran, Rick Grams, also spoke to the recipients about his experience as a CTU student; Grams underscored how education has impacted his career and life. These talks helped the recipients understand the worthwhile challenges of obtaining a degree.
The following day, members of the Wounded Warrior Scholarship team volunteered at the Yellow Ribbon Fund's "Uncle Vito's Christmas Party" event, held at the Walter Reed physical therapy unit. A 2015 scholarship recipient was in attendance, along with the daughter of the first CTU Wounded Warrior Scholarship caregiver recipient.
CTU wishes the 2016 Wounded Warrior Scholarship best of luck as they start their degrees at CTU in January and February 2016.