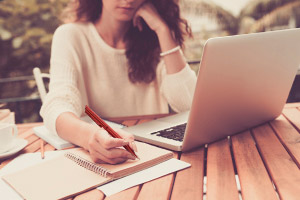 Having a compliance officer or department is crucial for many companies, and it takes a person with a specific set of skills to fill the role. In an article about the increase in demand for people to work in the compliance space — which is a good read for those wondering how to get a job in compliance — The Wall Street Journal noted that these jobs "require keeping up with increasingly strict and complex regulatory systems around the world," describing the field as "booming."1
What is Compliance?
People who work in compliance will likely have a variety of duties that will vary according to where they work. The International Compliance Association describes compliance as "the ability to act according to an order, set of rules or request," noting that in the context of business compliance is concerned with internal rules as well as external rules and regulations.2 Some general tasks of jobs in compliance may include:
Identifying risks to an organization.
Designing and implementing methods to protect the organization from those risks.
Monitoring the effectiveness of these methods and reporting on their effectiveness.
Resolving conflicts with regulations and regulatory bodies such as the Securities and Exchange Commission (SEC).
Advising the organization on current rules and regulations, both internal and external.3
Tips for Getting a Job in Compliance
Compliance can be a difficult field to enter without prior experience in the field. Even experience that is tangentially related to compliance could help you stand out as a job applicant. Some things that help when you are searching for a job in compliance include4:
A background or degree in accounting.
Experience in trade or settlement operations.
Experience as a paralegal.
Like any other job, you may not be able to get a job in compliance immediately — in some cases, the most effective route to such a position could be another job at the same company. Some positions may offer on-the-job training in the form of working under senior compliance employees, which could mitigate the need for prior experience — but at a minimum, an appropriate degree is almost certainly necessary to get your foot in the door.
On the other hand, any relevant experience can be a tremendous asset. As The Wall Street Journal notes, "Intense demand is forcing companies to look beyond the limited ranks of job seekers with compliance backgrounds," pointing out that previous work in project management, operations, and technology could make candidates more appealing.5
Independent of experience, those who are seeking to enter the compliance field should generally be inquisitive and have a stellar attention to detail. The job entails reviewing large amount of information very quickly to ensure that operations adhere to rules and regulations, in addition to synthesizing and communicating that information simply and effectively to coworkers and decision-makers.
Ultimately, a desire and ability to communicate effectively could be the crux of a compliance position.
What Kind of Jobs Does the Field Offer?
Wherever there are internal or external rules to be followed, there is likely a need for someone to work in compliance. That said, the role is most common — and most necessary — in financial fields, where adhering to regulations is a tremendous part of the industry.6 The Bureau of Labor Statistics echoes this point, indicating that "New regulations will likely create a need for new examiners."7
What Degree Do I Need?
Since working in compliance most often involves the understanding and following of laws, rules, and regulations, a security degree or an accounting degree can be a tremendous asset; for more senior roles, a Master of Business Administration could also be helpful, though the requirements will likely vary depending on the employer and the sector in which they operate.8 A degree could be a way to break into the industry without prior experience. If interested in a financial compliance position, you might also consider pursuing a CAMS (Certified Anti-Money Laundering Specialist) credential and working toward FINRA's (Financial Industry Regulatory Authority) Series 24 Exam.9 Ultimately, the exact requirements will likely depend on the nuances of the role and the preferences of the company to which you're applying.
While this quick look at how to get a job in compliance may seem daunting, the guidance of knowledgeable admissions advisors at CTU can help you work toward your goal and get you started with the appropriate degree program.
Looking to enter the business world? Learn about CTU's business degree programs.
---
REQ1011564