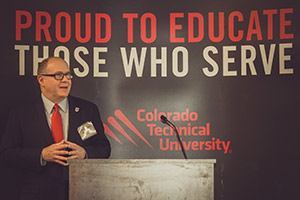 For the eighth year in a row, Colorado Technical University offers full-tuition education scholarships to wounded active duty service members and veterans. Spouses and caregivers of wounded service members are eligible to apply as well. Learn more and how to apply.
Colorado Technical University is proud to announce it is now accepting applications for its 2017 Wounded Warrior Scholarship Program.
The university created the Wounded Warrior Scholarship in 2008 in collaboration with the Yellow Ribbon Fund, Inc. to help provide higher-education opportunities to the extraordinary men and women whose lives have been altered as a result of injury while serving in the United States Armed Forces. As of January 2016, CTU has awarded 400 scholarships valued at $6 million.
In addition to wounded active duty service members and veterans of the U.S. Armed Forces (including Reserve, National Guard and Coast Guard), spouses and caregivers of wounded service members are also eligible to apply for the scholarship.
The application is available online at CTU's Wounded Warrior page and requires a letter of recommendation, short answer questions and an essay.
"We're very proud to offer the Wounded Warrior Scholarship at CTU as a way to thank the men and women who have served our country and sacrificed so much," said university president, Andrew H. Hurst. "It's been such a privilege to help service members and their families achieve their educational goals. Each year we are inspired by their incredible triumphs in the face of adversity and look forward to helping them achieve even more."
Wounded Warrior Scholarship recipients receive a full-tuition scholarship for any Colorado Technical University degree program, a new laptop computer and text books or e-books. Scholarship winners can enroll for their Associate, Bachelor's, Master's or Doctoral degree in Business, Criminal Justice, Psychology, Engineering, Computer Science and Information Technology, Healthcare and Nursing, Project Management or Security Studies. Like all CTU enrolled military students, scholarship recipients will have the option to study online or at one of the university's campuses in Colorado Springs or Aurora and receive a dedicated student success coach, specially-trained military education advisors and 24/7 technical support.
A selection board consisting of representatives from the academic, business and military communities will review the applications and make careful assessments to select the final recipients. "Personally, I have been extremely honored over the past eight years to serve on this important committee that has meant so much to so many. On behalf of all committee members, we are extremely grateful to CTU for their willingness to give back and offer the gift of education to those who serve our country," says Martin Pate, III, retired U.S. Army command sergeant major and longest serving CTU Wounded Warrior Scholarship Selection Committee member. "It is truly a gift that keeps on giving."
To further serve the military community, the university offers the scholarship to military spouses and caregivers. "Taking care of an injured soldier is a physical and mental challenge for caregivers. I am so proud to have received the scholarship," says Deborah Fletcher, a 2015 recipient.
Colorado Technical University is proud to have been recognized by several top-ranking sites and publications. In addition to earning a position on U.S. News & World Report's 2016 Best Online Programs for Veterans list, the university was designated as a Best for Vets College by Military Times for a third time (2013, 2014, 2016). Recently, CTU was named a Best for Vets Business School two years in a row (2015, 2016), and G.I. Jobs magazine awarded its Military Friendly® School designation to the university for the seventh year in a row (2010-2016). Most notably, Military Advanced Education has recognized the university as one of the top universities serving the educational needs of the Armed Forces for nine years in a row (2008-2016).
Applications for the 2017 scholarships will be accepted through July 31, 2016 at https://coloradotech.edu/military/ctupatriot. The university will announce the scholarship recipients on Veterans Day, Nov. 11, 2016, and the winners will begin class in January or February 2017.