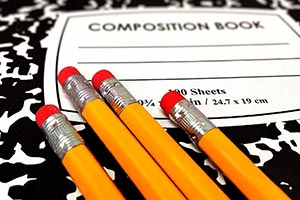 As school buses reappear on our streets, the leaves begin to turn, and football season kicks off, you may feel inspired to get back in the classroom. Whether you are embarking on a college degree program for the first time, a new career track, or completing your college education, back to school tips for adult education can be a bit different than those for elementary and secondary school students. Here are five things to keep in mind as you go back to school as an adult.
The Best Program For You
The number one thing you need to keep in mind is to find the right degree program for you. What degree level do you want to earn – associate, bachelor's, master's, doctorate? Are you looking for certain courses in a specific field? Do you need certification for a promotion in your current career? These are all questions to ask yourself when you're choosing a school. Remember that higher education students these days are not just 18-24 year olds. They come from all age brackets, income levels, and diverse work and school backgrounds which make personalized learning essential— especially if you are heading back to school as an adult or going for your degree while working. Many schools offer the opportunity to earn credit for your prior work, learning, and life experiences. CTU offers a prior learning assessment which can help students earn course credit for what they already know or have learned throughout their academic and work careers. By transferring in course credit, you can reach your goals faster and make the journey easier or more tailored to your needs.
A Plan Of Attack
Arm yourself with a plan of attack. This means managing your time well and staying organized. Whether you're attending classes on campus full-time or completing an online program while holding down a job - the keys to success are time management and organization. Look at your class schedule and syllabus and mark important dates on a separate calendar just for your schoolwork. Keep your course materials organized and store your papers and notes in a separate area in your home so they don't get lost in the shuffle. Look at your work and family schedule and block out study and reading time. Stick to that schedule and ask others not to interrupt you if at all possible. Treat your school work with the same priority you give to work projects and other deadlines in your life.
The Right Technology
No college student would manage well these days without a computer. This doesn't mean you have to run out and buy the latest, most expensive version, but it does mean you need to make sure you have equipment that can handle your new workload and help make your studying and paper writing easier. Online degree programs are a special challenge because your computer will be your lifeline connecting you with course materials, notes, message boards, study chat rooms, and communication with your instructors. Make sure your desktop or laptop has enough memory and an operating system that meets requirements for your program. Don't be afraid to ask your school's IT or technical support department for assistance or advice. They can help you get connected to online portals and get you started on the right path before classes begin. Online study can be convenient and enjoyable, so make sure you start off on the right foot with the right equipment.
A Good Financial Plan
Money is definitely a consideration when deciding if, when, and how to go about completing your degree program as an adult student. You'll need a good financial plan to make it work. The good news is that there are plenty of resources available to help you learn about costs, financing options, scholarships, and student loans. Don't be afraid to ask for help and advice! By doing research and discussing your options, you can make a well-informed decision. Check with your school's financial aid office early in the process to explore whether you may qualify for financial aid.
Confidence
One you've chosen a school and program, you're ready to start classes. Do you feel butterflies? Don't panic! It may have been years since you stepped into a classroom or listened to a teacher lecture and this may be the first online course you've ever taken. Take a deep breath and have confidence in yourself. You can do it! Remember that you are not alone. All of your classmates are feeling the same stress, so reach out and connect with them in person or online. You'll make new friends and study buddies in the process and enjoy sharing the experience and study tips. Also, share your plans with family, friends, and coworkers and ask them for their support in your endeavor. With the right attitude, equipment, financial advice, and academic program, you're about to take the first step toward completing an important life journey.
Learn more about how to receive credit for prior experience: Download our sample Experiential Learning Portfolio.