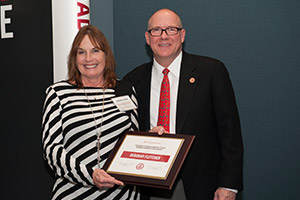 Service Members, Spouses, and Caregivers Receive Education Scholarships in Veterans Day Tribute
COLORADO SPRINGS, Colo. (Nov. 11, 2015) On this Veterans Day, Colorado Technical University (CTU) is proud to announce its 2016 Wounded Warrior Scholarship recipients. Fifty active duty military service members, veterans, military spouses, and – for the first time this year – caregivers of wounded warriors are honored for their service with a new opportunity to pursue higher education.
"We're proud to welcome this incoming cohort of Wounded Warrior Scholarship recipients to our university," said Andrew H. Hurst, president of Colorado Technical University. "Our selection committee was humbled by our applicants' personal stories and moved by their incredible triumphs in the face of adversity."
Developed in 2008 in partnership with the Yellow Ribbon Fund, the Wounded Warrior Scholarship covers all costs such as tuition and fees, books, and even a new laptop computer for recipients for any CTU degree program. A selection board consisting of representatives from the academic, business, and military communities reviewed each application and performed a careful assessment to select the final recipients.
This year, CTU expanded the scholarship criteria to award scholarships to non-medical caregivers – individuals who are vital in a wounded warrior's care and recovery. "Listening to our military community, we learned that those who care for injured service members often lack access to flexible and convenient higher education," added President Hurst. "We strive to give back and honor these caregivers for their role in serving America's brave soldiers."
Scholarship Impact
Over the past seven years, the CTU Wounded Warrior Scholarship program has awarded $4.6 million in education assistance to 350 individuals. "It gives me such great feeling to witness the dedication and devotion that CTU has for the military community," says Martin Pate, III, retired Command Sergeant Major and longest-serving CTU Wounded Warrior Scholarship Selection Committee member. "The scholarship has blossomed from 25 to 50 scholarships for service members, as well as extended to caregivers. Every scholarship that CTU awards and every graduate from CTU makes our world a better place to live."
For wounded service members such as TSgt Todd Walls, Sr., a retired Air Force veteran and two-time recipient of the Wounded Warrior Scholarship (2013, 2015) from Washington, D.C., the scholarship has had a life-changing impact on him and his family.
"CTU's Wounded Warrior Scholarship has been a tremendous opportunity for me to advance my knowledge base and my career," said Walls. Since receiving his graduate degree at CTU, Walls shared that his employer has placed him on the fast track to a leadership role. "This (scholarship) has been an injection of adrenaline in my career," remarked Walls.
Honoring Caregivers
A 2016 recipient, Sonia Yulfo, is a caregiver to her father, a Sergeant First Class in the Army. When her father was injured in battle, Yulfo selflessly set aside her plans to finish her education to care for him. Now, through the Wounded Warrior Scholarship program, Yulfo will pursue her Master's degree at CTU and hopes to work with soldiers transitioning from the military to civilian life upon graduation.
"I put my life on hold to take care of the person that I looked up to most…the strongest, warm-hearted hero that was always there for someone in need, especially his soldiers," said Yulfo. "I'm honored to receive the Wounded Warrior Scholarship and am proud to become a student at CTU."
The 2016 Wounded Warrior Scholarship recipients will be honored in one of two upcoming award ceremonies: one in November at Fort Carson in Colorado Springs, CO and another in December in Bethesda, MD at the Walter Reed National Military Medical Center. Learn more about the Wounded Warrior Scholarship at http://www.coloradotech.edu/military/ctupatriot. See the list of 2016 scholarship recipients here.
A Long-Standing Military Commitment
The Wounded Warrior Scholarship program is just one aspect of CTU's commitment to serve active duty military, veterans, and their families. CTU provides an accredited college education that is flexible and rewarding to service men and women. The university's dedicated military student advisors understand the unique needs of military and veteran students, and work closely with them to begin or continue their education from enrollment through the pursuit of their degree.
"Over the past 50 years, Colorado Technical University has demonstrated a commitment to enabling service members to succeed in civilian life," said Michael Midura, U.S. Navy veteran, board member for the Council of College and Military Educators (CCME), and Director of the Wounded Warrior Scholarship program. "With our award-winning Virtual Campus, mobile access, and two campuses in Colorado, CTU allows service members who are deployed or relocated to take classes conveniently."
CTU has been recognized by U.S. News and World Report in 2015 for its online graduate computer information technology programs, online criminal justice programs, and online bachelor's degree programs. Additionally, CTU has also been recognized by G.I. Jobs Magazine from 2010-2015 as a military friendly school and as a top university serving the educational needs of the Armed Forces by Military Advanced Education & Transition from 2008-2015. Additionally CTU received the Military Times' Best for Vets distinction in 2013, 2014, and 2016, as well as Best for Vets Business Schools in 2015.
---
About Colorado Technical University
For 55 years, Colorado Technical University (CTU) has helped students fit a real-world education into their busy daily lives. With more than 80 degree programs and concentrations in which students can pursue a variety of degrees at the associate, bachelor's, master's and doctoral level. CTU provides flexible online classes, accessible through the University's Virtual Campus or the innovative CTU Mobile app. CTU also maintains two ground campus locations in Colorado Springs and Aurora, Colo. With the help of faculty and industry professionals, CTU has awarded over 118,000 degrees to traditional campus and online students since 1965. For more information about CTU, visit www.coloradotech.edu.
Colorado Technical University is accredited by the Higher Learning Commission (hlcommission.org), a regional accreditation agency recognized by the U.S. Department of Education. CTU cannot guarantee employment, salary or career advancement CTU is a member of Perdoceo Education Corporation (NASDAQ:PRDO). For more information, visit www.perdoceoed.com.
Media Contact:
newsroom@coloradotech.edu