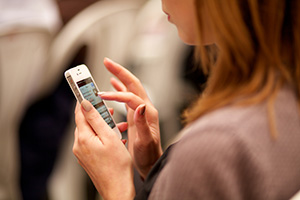 "Education is essential in today's world, and the one thing I've noticed about military families is sometimes they are afraid to dream." ~Amanda Loudin, CTU student
Does this sound familiar? Are you overwhelmed by the thought of pursuing educational goals or finding your dream job? If you find yourself anxious about making these types of decisions, we hope you'll find comfort knowing that you're not alone.
CTU online student, Amanda Loudin, was recently in this position. After asking similar questions about how she might balance enrolling in classes, she took a leap of faith and is now pursuing a Bachelor of Science in Business Administration. Since beginning her studies in fall of 2014, she's learned "that unless you take action, you're not going to achieve your dreams."
Taking the first step
So, how might you take the first step to achieving your own dreams? First, decide what you want to accomplish. Create a vision for where you want to be. Second, try to manage your expectations for the journey you're about to embark upon. Next, find opportunities to create a solid support system. With an enthusiastic support system, you might be surprised what challenges seem more manageable.
One place to consider building a support system is in your school. Many schools offer support for students and often even specialized resources for online students. It's also worth researching what resources are available specifically for military families.
Throughout her CTU experience, Loudin is continuing to utilize her Student Success Coach. When asked about her experience, she says her coach has been "instrumental in assuring that I know every aspect of CTU and all it has to offer. As a result, I really feel like I'm on the right path—one that both suits my interests and will further develop my talents." Whether it's a Student Success Coach at CTU or another form of military support, take time to identify what resources will be most helpful to you. Create your own experience.
As a military spouse considering education or a career path, there may be unique challenges you face. It's not a secret the military lifestyle is often far from static. You're constantly moving your family and faced with situations that change life without a moment's notice—all of this making it more difficult to commit to anything, let alone education or career.
Luckily, the online community is becoming a more accepted channel to earn a degree or even find a job. An online education typically isn't one-size fits all—your education can fit your life, rather than the other way around. Plus, you don't have the burden of being on campus in a classroom. For example, CTU offers military students the opportunity to defer their degree program if deployed, and pick up where they left off once settled into their new location.
Another benefit of online programs is the capability to take classes from any location. An added bonus is you can usually complete online classes on your own time rather than being obligated to be on a campus and set schedule. The idea is to find a program that complements your current life situation.
Choosing your path
This shouldn't apply only to the type of program you select but also the specific degree you might consider. A common question admission counselors often receive from military spouses is "What degree program should I select?" Finding a program that supports a career that's adaptable to a military deployment schedule can be intimidating.
Military spouses may find that degrees in healthcare, human services or education can provide transferable and marketable skills, regardless of geographic location. And if those options don't fit your interests there are still plenty of other options to pique your interest. If you're still considering your area of passion consider the full list of CTU degree programs.
Utilizing your military experience
Along with finding a degree program that provides transferable skills, many military spouses worry that a "job hopping" resume will negatively affect their ability to develop a successful career path. However, the Bureau of Labor Statistics reports the average American holds 11 jobs between the ages of 18 and 44. Job-hopping is quickly becoming a trend of the national job market.
Instead of feeling like a victim being forced to job-hop, consider how you might use it to your advantage. A diverse resume may provide opportunities to explain to an employer how quickly you can learn new skills, adapt to a new environment and make quick decisions. Use your experience as a military spouse as your selling point rather than feeling like you need to justify your past.
Whether you want to earn a degree or establish a career path, take time to identify what's out there that matches your ambitions. Also, try to stay open-minded and flexible—it might lead you to experiences you never expected. Regardless of your situation, try to avoid letting the restrictions of a military lifestyle curb your appetite to further your education or find a fulfilling career.