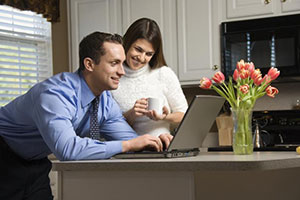 If 40 is the new 30, then this might be the right time for you to head back to school. Many people in their 40s are pursuing online graduate degrees for lifelong learning to help advance in their current career fields or to start new careers or chapters in life. But how do you choose a school? Your decision at this age will likely have more to do with criteria such as accreditation, affordability and flexibility than what social opportunities coed life on campus may offer. Here are five factors to consider during your search.
Online Degree Programs
Being in your 40s, chances are good that you're probably going to want or need to continue working full time or part time while you take classes. Online degree programs are a popular choice for the over 40 age group given that many are already working professionals with family and other responsibilities. Many traditional brick and mortar colleges and universities now offer online courses and degree programs alongside institutions that offer only online programs. For example, CTU offers online degrees, in addition to their on-campus programs. Enrolling in an online graduate program affords you the opportunity to gain a degree from a school that excels in your desired field no matter where you live. It also gives you the ability to schedule classes and studying around your busy work or family schedule.
Flexibility
Since you are busy, make sure you find a program that offers the flexibility to complete schoolwork anytime, anywhere. Many schools offer platforms that help you connect with faculty and fellow students via technology like chat rooms and message boards. This can help you ask instructors questions at any time (not just during office hours) and keep up to date on assignments as well as form study groups to help with projects. Also, check how many hours or credits you'll be expected to take each semester or session and ask if the school offers flexibility to take more or less hours as you go in case you need to adjust on the fly; the path to pursuing your advanced degree can have unexpected twists and turns.
Accreditation
It's wise to choose an accredited college. Accreditation ensures that the education provided by institutions of higher learning meets acceptable levels of quality. Accrediting agencies develop evaluation criteria and assess whether an institution meets those criteria. Taking courses at an accredited school will also make it more likely those credits will transfer to another institution if the need arises. You can check a school's accreditation at the U.S. Department of Education's website.
Faculty With Real World Perspective
Learning about your chosen field in a classroom or through a book is good, but it's even better if the person teaching you has actually worked in that field and has some experience. Try to choose a college or university whose faculty are industry specialists with real-world perspective. This will help you gain insights into the field you are pursuing and also learn practical ways to handle real world situations and tackle projects thanks to their lessons. This can also be valuable in finding a faculty member to become your mentor and perhaps even lead to contacts or job opportunities once you graduate.
Credit for Prior Learning and Experience
Now that you're in your 40s, you know a thing or two. Why not get credit for all of your work and life experience? Choose a program that respects your knowledge and experience with prior learning credit such as credit by exam, transfer credit, credit for military experience and other options. You may be able to transfer credits from previous college courses via a transcript and earn new credits for what you've learned during your civilian or military career and other life experiences.
Learn more about how to receive credit for prior experience: Download our Experiential Learning Portfolio.