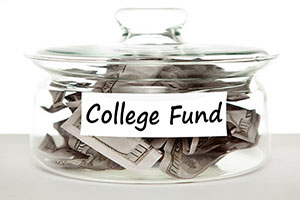 A STUDENT'S GUIDE TO MAKING THE CASE FOR AN EMPLOYER-PAID EDUCATION
Once you've decided to go back to school to earn your degree, an important step is to decide how you'll pay for tuition and other educational costs. For many, the prospect of paying for college can be daunting, but it doesn't have to be. There are many financial aid programs available to students, from federally funded grants and loans to work study programs and scholarships.
And in some cases, your employer may take care of your educational expenses. For example, UPS has invested $187 million in tuition assistance since it began offering the employee benefit in 1999. Other companies, including GAP, Intel and Wells Fargo also contribute toward qualified educational expenses for employees.
But the reality is, asking your boss to pay for your degree can be fairly straightforward if your company has an established tuition assistance program. If you work for a smaller company or your employer doesn't already have a tuition assistance benefit in place, it may take a bit more effort to get your college expenses paid, but it is possible. Here are some steps to help:
Inquire About Tuition Benefits
Even if you're employer doesn't publicize a formal tuition assistance program, it doesn't hurt to ask. In some cases a program may be under development or your employer handles these types of requests on a case-by-case basis. Start by visiting the human resources department, which is where tuition assistance programs are usually administered. Also, keep in mind that some companies have established partnerships with specific universities, so choosing to attend one of these schools may help ease the process of asking for tuition support.
Prepare the Business Case
If your employer doesn't offer tuition assistance or flatly refuses to help, consider the business case for your request. To build your case, it's helpful to know why your company doesn't offer the benefit. Reasons may include worry that employees will move to a competitor after the company paid for tuition or concern over the cost of tuition benefits. To prepare your case, you must not only address the primary concerns of your employer, but also show how paying for your degree will benefit the company. Ultimately, you must be able to provide a compelling answer to the question: How does your employer benefit by paying for your degree?
Below are a few potential ways your employer can benefit from your education. These are fairly general, so you'll want to do your own research to make them more compelling.
Increased productivity, which improves revenue.
Ability to take on a leadership role in the business.
Opportunity to mentor new employees, sharing what you've learned within the company.
Be Invaluable
You may be more likely to receive tuition reimbursement if you're an integral part of your company. Think about the tangible contributions you've made to your company, and then clearly communicate how earning your degree can enhance those contributions. Remember, you want to demonstrate how your company will benefit by supporting you on your educational path.
Make the Commitment
In many cases, an employer will ask you to meet certain criteria to qualify for any type of tuition assistance. For example, you may need to have been with the company for at least a year and also need to have above average performance reviews. Often, employers will also ask for a commitment that extends beyond your degree program. Remember, a common fear is losing you once a large financial investment has been made to improve your knowledge and skills. Don't be surprised when you're asked to sign a contract accepting tuition assistance. Just be sure you're clear about what you're committing to. Here are some areas to consider:
How will your tuition be paid? You may need to pay for educational fees in advance, and then receive reimbursement from your employer after submitting proof of successful completion of coursework with a specific letter grade or higher.
What will your employer cover? Some employers pay only course fees, while others will help you with books and additional educational expenses.
What happens if you stop school or quit a class before it's complete? You could risk losing your benefits if you decide to take a break from school.
How long are you committed to your employer after your education ends? Depending on your employer's investment in your education, you may be expected to remain an employee for a specific number of months or years following your completion of a course or degree program.
Tuition assistance has an obvious benefit to you as the student and the employee – you can attend school tuition-free, or at least partially subsidized. If you're unsuccessful in your first attempt to request tuition support, don't give up. Objectively evaluate your business case, from the eyes of your employer. Listen to feedback, being careful to pick up on the concerns presented by your employer. Continue to be an irreplaceable employee, and try again next quarter.