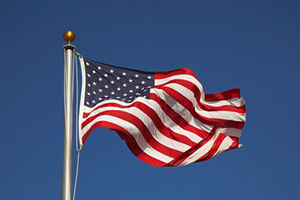 Gabriela Bordeaux began her education at CTU in 2012 as a recipient of CTU's Wounded Warrior Scholarship. After Gabriela's husband was injured while he was serving his country, she knew pursuing a degree was a way to help support her family. In fact, she considers receiving the scholarship as the "greatest opportunity" and said that it is helping her dream become a reality.
Often times with entering a new setting, it's normal to have some trepidation about your surroundings and who your peers will be. Gabriela learned quickly that at CTU, the environment is military friendly and has really allowed her to thrive. "In almost all of the classes I have taken, there is a classmate who is currently serving in the military."
Gabriela vividly recalls the day that she was exposed to CTU and the Wounded Warrior Scholarship program. "I still remember the day my husband was receiving his final papers, finalizing the medical discharge process; that was it, a chapter was closing." While they were leaving, they came across a representative from CTU who shared information about the school and the Wounded Warrior scholarship.
Gabriela is grateful for CTU and The Yellow Ribbon Fund, an organization whose mission is to provide practical support to injured service members and their families while they're at Walter Reed National Military Medical Center, Fort Belvoir Community Hospital, and after they return to their hometowns. "Thanks to the Yellow Ribbon Fund and CTU, I would not be where I am today, soon to graduate in a few months and the beginning of a new life for myself and for my family."
After getting acclimated to the online learning environment and working with the support system she has around her, Gabriella has been able to develop a routine for success in her Bachelor of Science in Business Administration program. She is confident that by putting in the hard work today, she is working toward achieving her goals in the future.
Find out more about CTU's dedication to supporting our military students.