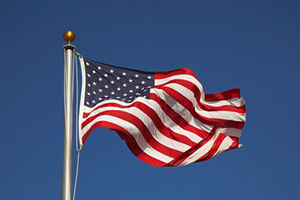 COLORADO SPRINGS, Colo. (April 2, 2015) Colorado Technical University (CTU) today announced its call for applications for the 2016 Wounded Warrior Scholarship. The eighth annual scholarship program is intended to provide much-needed assistance to active duty military personnel, veterans, their families and caregivers to pursue higher education. Together with the Yellow Ribbon Fund, the program covers the full educational costs including tuition, books and fees for a single degree program, as well as a new laptop computer.
CTU awards 50 scholarships annually — 25 to wounded service members and 25 to their spouses or caregivers. To date, CTU has awarded 350 scholarships with a total value of $4.6 million to honor those that put themselves on the front lines for this country every day.
"CTU has always been a strong advocate for military families, and this scholarship is a testament to that," said Bob Lally, retired naval captain, and director of CTU's Wounded Warrior Scholarship Program. "These service members and their families fight for our country and we want to make it as easy as possible for them to succeed. That means providing support networks to guide them and giving them an opportunity to pursue their dreams of higher education free from financial strain."
The scholarships aim to provide a way for wounded service members, their spouses, and caregivers to earn their degree to better prepare them to move into civilian careers. This is the first year in which CTU has expanded the program to include those injured in any combat duty and caregivers of wounded warriors. The scholarships are also intended as a way to learn and enhance skills that may be needed for a job promotion. It can often be very difficult for service members to rebuild their lives and livelihood after an injury. CTU seeks to offer a way to start fresh with support and encouragement.
"Many military students place their education on hold while they serve," said Andrew H. Hurst, president of CTU. "We strive to honor this sacrifice by maintaining a deep familiarity with the day-to-day challenges they, and their families, face. This scholarship is a tangible example of CTU&rsquo's commitment to the military – and we're proud to expand the program's eligibility this year."
How to Apply for the Wounded Warrior Scholarship Program
The application to the Wounded Warrior Scholarship Program consists of an essay sharing the obstacles a wounded service person has overcome, or the obstacles encountered while caring for and supporting someone who is injured. Scholarship winners are selected based on their desire to advance their education and plans to apply their degree for career advancement after completing the program.
Candidates must provide proof of high school graduation or equivalency documents, and be an active United States Armed Forces member or veteran, or spouse or caregiver of an active service member or veteran who is currently receiving medical treatment for injuries suffered in combat or injuries received in the line of duty.
Applications must be completed and received by September 15, 2015, and winners will be announced on November 11, 2015. For more information about the scholarship and to access the application, please visit the following website: https://www.coloradotech.edu/military/ctupatriot.
Selection Process
An independent selection board consisting of representatives from the academic and military communities select recipients. For a complete list of scholarship recipients, visit https://www.coloradotech.edu/military/ctupatriot.
---
About Colorado Technical University
For 55 years, Colorado Technical University (CTU) has helped students fit a real-world education into their busy daily lives. With more than 80 degree programs and concentrations in which students can pursue a variety of degrees at the associate, bachelor's, master's and doctoral level. CTU provides flexible online classes, accessible through the University's Virtual Campus or the innovative CTU Mobile app. CTU also maintains two ground campus locations in Colorado Springs and Aurora, Colo. With the help of faculty and industry professionals, CTU has awarded over 118,000 degrees to traditional campus and online students since 1965. For more information about CTU, visit www.coloradotech.edu.
Colorado Technical University is accredited by the Higher Learning Commission (hlcommission.org), a regional accreditation agency recognized by the U.S. Department of Education. CTU cannot guarantee employment, salary or career advancement CTU is a member of Perdoceo Education Corporation (NASDAQ:PRDO). For more information, visit www.perdoceoed.com.
Media Contact:
newsroom@coloradotech.edu