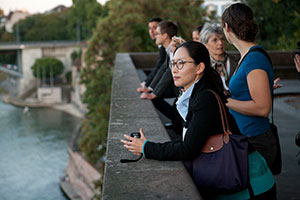 Taking a break from college is never an easy decision. But sometimes you find yourself in the position where that's the best action for the short term. Perhaps you've recently welcomed a child, experienced a long illness, found yourself as the primary caretaker for a sick family member, or your budget won't support continuing your education for a semester. Whatever the reason for taking a break from college, it might be the best option for you right now and taking these five steps can help you stay on track to completing your degree in the long term.
1. Talk to your advisor before you take a break
There's a good chance you used many resources, such as attending a school tour, or speaking with an alumnus, when you made the decision to attend college. You can bring the same information-gathering mindset to taking a break. Before you make the decision, schedule an appointment with your student advisor.
You might also research the following:
What courses, if any, are offered only during a certain session? Some programs are sequential, so if you drop a session, you may have to wait a year to pick-up where you left off. It's best to know where you stand before you take a break, so you know what's required to start back.
Determine how long it will take to complete your degree going full-time, part-time or by taking one course a session, and what options are feasible. Some students are surprised to learn they've completed at least an Associate degree with their previous coursework. You can use this degree in the short term, with a focus on completing your bachelors in the long term. In a January 2014 White House report, the requirement for a post-secondary degree for positions has doubled in the last 40 years, potentially making gaining a post-secondary education critical to greater sustainability.1
Make sure you know every resource available to you while you're in school--from financial aid, little-known scholarship or grant support, to mental health services, home bound instruction and childcare services. Many colleges and universities offer a wide array of resources and services to current students. If you don't know about them, you can't take advantage of them. If you find you need to take a break now, at the very least, you'll know what resources are available to you to help make the easiest return.
2. Make sure to reapply for financial aid annually--even if you're not attending
Though federal financial aid may be largely loan-based--at a typically lower percent rate than a bank-awarded loan—grants can also be part of the offering. Even if you're taking a break from college for a year or semester, reapplying yearly maintains your eligibility and helps keep your options open, in case you do find you can return sooner. Missing the application window means unnecessary added administrative work in reapplying. Also, eligibility can change from year to year based on your income and other factors, so it's good to be clear on what you can expect to receive in considering when you can return.
3. Be realistic about your break
While taking a break from college, it's important to be realistic about it. Many who find they must take a break, largely for financial reasons, find it increasingly harder to go back as time passes. College graduation rates tend to decline for students who drop out and re-enroll; per Reuters, only 56 percent of all who start, finish a four year degree in six years.2
If you need to quit college, do so with a plan. If you're financially strapped, you may want to make it your goal to find or secure work before you quit--work that pays higher than minimum wage in most regions. Work as a driver, bartender or server might pay higher than minimum wage and may offer a flexible schedule--one you could continue in transitioning back to school. If you've never done any of this work before, consider that these generally jobs need no degree, just a willingness to learn the ropes and work hard. And also consider, paths like this that could be great for just this situation, likely aren't as sustainable in the long run as the options you can be afforded by finishing your degree.
If the reason is a new baby or an illness that keeps you from attending class, focus on your new "job." Whether its parenthood or recovery, both take time and lamenting you can't continue school, or on the flip side, believing you'll return "one of these days," are both unhelpful ways of thinking about your break. Though it might not be the path you started on, accepting where you are at the moment can help keep you in a more positive, realistic state.
4. To keep the momentum, continue to learn while you're on a break
The word "learn" comes from Old English "leornian," meaning "to get knowledge, be cultivated, study, read, think about." Notice that definition doesn't include "to gain credits or pass exams." You can continue to keep up with your learning even while taking a break. Though having a degree can be a way to open more doors to personal and professional development, anyone can get a library card and most people have access to online resources.
Continue reading about your interests and subject matter, participate in related online forums, local groups or meet-ups and consider getting an internship. While it's true some internship programs are credit-based, highly competitive, structured or require many hours, many other companies and organizations in your area of interest are simply happy to have additional, free support, no matter how much time you can realistically give.
5. Stay focused on the long-term goal of completing your degree
Sometimes, those who quit convince themselves they can't make it back to completing a degree. But keeping the focus on doing so makes all the difference. Instead of comparing yourself with someone who might have more cash flow, more energy or more time, having faith and perseverance are just as valuable resources.
Let history be your teacher and guide on perseverance, while you're taking a break: Walt Disney was turned down over 300 times for financing, J.K. Rowling, author of the Harry Potter series, was rejected by 12 publishers, Steven Spielberg was rejected not once, but twice, from film school and the Wright Brothers worked for years to succeed in the first flight--even if it was a short 12 seconds. Staying focused on a goal helps keep you in action toward it.
It may be a challenging time if you're considering taking a break from college, but staying on track with these steps can help you better navigate this time and stay the course in eventually returning to school to complete your degree.
---
1. https://www.whitehouse.gov/sites/default/file/docs/white_house_report_on_increasing_college_opportunity_for_low-income_students_1-16-2014_final.pdf
2. http://www.reuters.com/article/2012/03/27/us-attn-andrea-education-dropouts-idUSBRE82Q0Y120120327