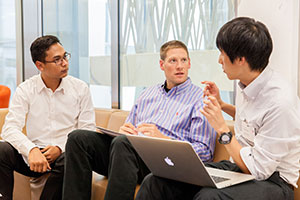 Do you think online graduate degrees are only for those in their 20s? Think again. Colleges and universities are full of older students these days. Schools with online programs are seeing especially high numbers of students over age 30, who want to improve their resumes or change career paths. Maturity brings wisdom but also more responsibility. Going back to school in your 30s may mean juggling a job, classes and even a spouse and children. But that doesn't mean you can't do it! Here are some tips for finding the right program and making sure you succeed.
Flexibility
Your 30s are a busy time of life: climbing the corporate ladder, taking on more responsibilities at work, getting married, starting a family and buying a home. Fitting school into the equation is a challenge. Many people have done it and you can too-- the secret is organization and time management. The best ally you can give yourself is a school that offers flexibility in class schedules. When choosing a school, ask admissions advisors whether you will be able to adjust your course load or credit hours each term to help balance work and family obligations. At CTU, we realize every student learns differently. That's why we connect you to a personalized learning system called intellipath® – our proprietary education technology that personalizes course material completely around you. Through a series of questions, adaptive learning technology recognizes what you already know, anticipates what you're ready to learn and tailors your course materials accordingly. That way, you can move quickly over what you already know and have more opportunities to learn something new.
Online Degree Programs
Online degrees and online graduate degrees are becoming increasingly popular among working professionals in their 30s because of the freedom they provide. You can watch lectures and take exams on your timeline instead of trying to attend classes around your work or family schedule. Be sure to also take advantage of technology like message boards and chat rooms to help you connect and build relationships with your professors and classmates even if you don't see them in person. Schools have resources and IT professionals to help you get set up for your online courses and download e-books and other course materials. CTU offers a number of resources to help you manage your education and connect with peers including online communities and student portals. We're here to provide you with all of the resources you need to successfully pursue your education.
Accreditation
When choosing a school, make sure it is properly accredited. Accreditation ensures that the education provided by institutions of higher learning meets acceptable levels of quality. Accrediting organizations develop evaluation criteria and assess whether an institution meets standards. Taking courses at an accredited school will also make it more likely those credits will transfer to another institution if the need arises. You can check a school's accreditation at the U.S. Department of Education's website.
Faculty with Real World Perspective
You are old enough now to have some real world experience and you should expect the same from your professors and instructors. Learning can be even more productive and meaningful if your instructor or professor has actually worked in the field they teach and has real world experience. Try to choose a college or university whose faculty are industry specialists with real-world perspective. This will help you gain insights into the field you are pursuing and also learn practical ways to handle real world situations and tackle projects thanks to their lessons and experience on the job.
Credit for Prior Learning and Experience
Since you do have some experience under your belt, why shouldn't you get credit for it? Choose a program that rewards your knowledge and work experience with prior learning credit such as credit by exam, transfer credit, credit for military experience and other options. You may be able to transfer credits from previous college courses via a transcript and earn new credits for what you've learned during your civilian or military career and other life experiences.
Tuition Costs
In your 30s, you may still have student loans from your undergraduate degree plus other bills and expenses such as a mortgage. The good news is that you may be eligible for financial aid depending on your situation. Also, ask if your employer offers tuition reimbursement if your course of study pertains to your current career.
Thinking about returning to school but don't want to start from scratch? View our Transfer-InCredits Guide.