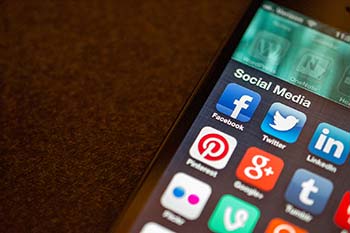 By Constant P. "CP" Craig, MSM, Lead Instructor of Security Studies
In today's technology-driven environment, it seems that more people connect online than they do in person. Smartphones, tablets and cloud-based applications are common in most everyone's lives, helping people share information faster than ever seen before. Social media is a popular way to connect and share. In conversations related to developing your professional network or finding a job, the use of social media is strongly suggested. While social media offers a means to quickly connect with others, it's important to be cautious and aware of potential security issues you may encounter.
The Good and the Bad of Social Media
Sharing information on social media is great; some would even say wonderful. The information shared empowers you with helpful knowledge. It can make you smarter and more productive in your professional life. Applied to professional networking, social media can help you gather information needed to find that perfect job, house or next big purchase. Chances are, you use social media to connect with long-lost friends and distant relatives too. Those are the positive aspects of social media.
But there is a dark side to social media that you need to be aware of – not only to avoid embarrassment, but to also maintain your personal safety. Unfortunately, not everyone on social media is a "friend" or has good intentions. You've probably read about embarrassing pictures that went viral and heard about hurtful posts or instances when people have lost their jobs because of something shared on social media. From a professional perspective, vital business intelligence can be lost if information is accidentally shared on social media, causing loss of market share or brand reputation.
Some states are considering legislation to stop the spread of embarrassing "revenge posts," but ultimately it's up to you to secure your online brand and identity.
Tips for Staying Safe in a Social Media Thirsty World
Social media is everywhere. It's hard to avoid dipping your toes in. But there are steps you can take to maintain active involvement in social media and protect yourself.
Be aware of what you snap. Even if you own an older cellphone, it probably has a built-in camera. Cameras are fun because they capture moments that you want to remember – like the day you got your driver's license or the Caribbean vacation you're enjoying. But when you snap a picture of your driver's license to share with your Instagram followers, you're inviting potential security issues by sharing your personal details. When you post your vacation photos in real-time, you risk tipping off criminals that you're not home. Even if you keep your social profiles private, there is always a risk for a security breach that leaks your private information.
Know what you're sharing. Smartphones are a modern convenience, especially for photo sharing. But few people are aware of the hidden data that is stored with each image, including camera settings and GPS coordinates of the location the image was taken. In 2007, the United States Army lost a number of very expensive AH-64 Apache helicopters in Afghanistan because of this technology. Soldiers posted pictures to a website that the Taliban were able to access to extract the metadata and determine the exact location of the helicopters. It was an expensive and deadly mistake.
Use public WIFI sparingly. The convenience of accessing the Internet—wirelessly and for free—is undeniable. You've probably done homework, checked email or posted to Facebook using the complimentary WIFI at your local coffee shop. But did you know that, by doing so, you might be unknowingly giving permission for companies to collect information about you? If legitimate companies are collecting information from you unknowingly, it won't be long before criminals will find ways to do the same and use it for their illegal activities.
Protect your devices. Given the common nature of smartphones and other popular mobile devices, it's easy to let your defenses down when it comes to protecting the actual device. But you must remain vigilant because there is a rise in thefts of mobile devices. These attacks are often violent and dangerous to the victim. Thieves are not only getting your device, they're also getting the wealth of personal information on your device. To prevent this, consider adding a lock code on your device and adding an application that can wipe the data if it's lost or stolen.
Social media is paper on steroids
In the old days, we could put ideas on paper, think about it and if we didn't like it, we could destroy the paper. Computers, mobile devices and social media bring permanency to handwritten ideas. Once a thought is placed into keystrokes, posted online or stored on an electronic device, it never goes away even if you think you deleted it. It cannot be destroyed. While we may remove the thought or photo from our space, others may now have that information in their space.
So while I want you to enjoy all the positive aspects of social media, be careful of what you launch into cyberspace.
Share your thoughts. How do you protect yourself in today's digital age?

Constant P. "CP" Craig, MSM, is a retired U.S. Marine Corps commissioned officer. His assignments spanned the globe, including a command assignment of a Marine Unmanned Aerial Vehicle Squadron, an intelligence, surveillance and reconnaissance (ISR) asset. Since his retirement from the U.S. Marine Corps, Mr. Craig has been employed by a variety of companies to provide professional consulting services to the Department of Defense and the Department of Homeland Security. Mr. Craig has been featured in the Cambridge and Marquis editions of "Who's Who in Business of America". He has a Bachelor of Science degree in Business Administration from the University of Florida and a Master of Science in Business Management from Colorado Technical University. He is a graduate of the United States Marine Corps' Amphibious Warfare School, Command and Staff College and Weapons and Tactics Instructor Course. He is currently Lead Instructor of Security Studies at Colorado Technical University.