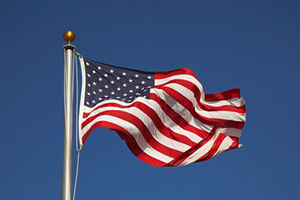 Colorado Springs, Colo., Nov. 11, 2014 As part of its commitment to providing education and skills training to those serving in the U.S. armed forces, Colorado Technical University (CTU) today announced the 50 recipients of its seventh annual Wounded Warrior and Wounded Warrior Spouse scholarships. The seventh annual scholarship program has supported wounded active duty and veteran service members and spouses since 2008. Since the university's inception in 1965, it has been dedicated to serving the educational needs of active-duty military personnel, veterans and their families.
Together with the nonprofit Yellow Ribbon Fund, CTU created the annual Wounded Warrior scholarship program in 2008 to award 25 wounded service members and veterans, and 25 spouses of wounded service members with scholarships. The scholarship covers the full cost of tuition toward any CTU degree, including course materials and fees, as well as a new laptop computer.
"We strive to continuously support military service members, veterans, and their spouses as they pursue their personal, professional and academic goals," said Andrew Hurst, president of CTU. "We understand military families and spouses face overwhelming hardships when a service member is injured. Suddenly their lives are turned upside down. Spouses not only need to care for their injured spouse but need to identify ways to provide for their family. We're proud that these scholarships can help these brave soldiers and spouses get an education and transition to civilian careers."
Selection Process
Since 2008, $4.5 million in scholarships has been awarded to active duty and veteran personnel who have been wounded in Operation Enduring Freedom (OEF) or Operation Iraqi Freedom (OIF) and their spouses to enable them to pursue a college degree. CTU is one of a few universities to offer assistance of this magnitude.
Recipients are selected by an independent selection board consisting of representatives from the academic and military communities. For a complete list of scholarship recipients, visit our webpage. The recipients will be recognized at a special awards ceremony on November 20 in Colorado at Ft. Carson and on December 9 in Bethesda, Maryland at Walter Reed Memorial Hospital.
Military Support at CTU
CTU has made it part of its mission to provide a quality college education that is flexible, accessible and rewarding to service men and women and their spouses. The university's dedicated military admissions advisors understand the unique needs of military and veteran students. They work with recovering service members and veterans to begin or continue their education.
Wounded Warrior Scholarship recipients pursue their degrees online, allowing those who don't live near a campus or are deployed or relocated to new regions to take classes at their convenience using CTU's award-winning Virtual Campus. Online coursework also affords spouses of wounded warriors flexibility as they pursue degrees while caring for their loved ones and continuing their careers.
The CTU Wounded Warrior Scholarship program is just one aspect of the university's commitment to serving active duty military, veterans, and their families. Among its military-friendly qualifications, CTU participates in the Post-9/11 GI Bill and Yellow Ribbon Program, and has been named a Military-Friendly School by Victory Media Inc. – the publishers of G.I. Jobs magazine 2010-2015. CTU has received the Military Times' Best for Vets distinction in 2013 and 2014, and recently aligned with Joint Base Andrews in Prince George's County, Md., to provide education advisement services to Air Force members. Military Advanced Education recognized CTU as one of its top universities serving the educational needs of the armed forces in 2008-2015.
For more information, visit: https://www.coloradotech.edu/military
---
About Colorado Technical University
For 55 years, Colorado Technical University (CTU) has helped students fit a real-world education into their busy daily lives. With more than 80 degree programs and concentrations in which students can pursue a variety of degrees at the associate, bachelor's, master's and doctoral level. CTU provides flexible online classes, accessible through the University's Virtual Campus or the innovative CTU Mobile app. CTU also maintains two ground campus locations in Colorado Springs and Aurora, Colo. With the help of faculty and industry professionals, CTU has awarded over 118,000 degrees to traditional campus and online students since 1965. For more information about CTU, visit www.coloradotech.edu.
Colorado Technical University is accredited by the Higher Learning Commission (hlcommission.org), a regional accreditation agency recognized by the U.S. Department of Education. CTU cannot guarantee employment, salary or career advancement CTU is a member of Perdoceo Education Corporation (NASDAQ:PRDO). For more information, visit www.perdoceoed.com.
Media Contact:
newsroom@coloradotech.edu