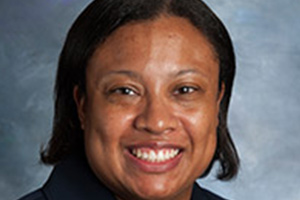 The Wounded Warrior Scholarship is a unique opportunity for military personnel and their spouses to pursue higher education at Colorado Technical University. Military spouse Sharee Walls received the scholarship and is now pursuing her Doctor of Management with a concentration in Project Management.
Sharee Walls is quick to smile. Whether she's talking with her husband, Todd, or discussing her upcoming career plans, Sharee will often slip in a megawatt grin that says a lot more than this otherwise soft-spoken woman might reveal. I'm optimistic, it says. I'm a hard worker, and I have big plans for my future. It is a smile, in other words, that no one can ignore.
Facing Challenges Together
Considering Sharee's recent history, however, the fact that she can flash that brilliant smile at all is a testament to her tenacity. Having met and married Todd while he was on active military duty serving with the Air Force, she spent much of her time as a military wife hoping he'd return to her safely. Todd served on three combat tours – one in Iraq and two in Afghanistan – where he worked as a flight dispatcher and endured several injuries in battle.
The experience has taken its toll on both husband and wife, who have been working together to overcome challenges caused by the injuries. As a result of his injuries, Todd eventually medically retired from his military career after serving for 12 years in the Air Force.
Building a Bright Future through Higher Education
Through the challenges, Sharee has grasped an opportunity. Although she's has been out of the workforce for five years, she is determined to hit the ground running when it comes to providing the best she can for her family. To that end, she earned a CTU Wounded Warrior Spouse Scholarship to pursue a Doctor of Management with a concentration in Project Management. The scholarship, which she received on her second application, is critical to Sharee's success. It means that Sharee can earn her college degree without having to work full-time. And by enrolling in the online learning program, Sharee is able to conduct the necessary coursework from her home in Virginia.
But the convenience is secondary to the potential her doctorate promises. The post-graduate degree, Sharee points out, "will enable me to say to future employers that I am serious about a career at this point in my life, and [it] will make me more prepared and marketable for employment."
Sharee has no illusions about the sort of commitment she's undertaken. While she's generally a composed person, her normally unflappable demeanor falls by the wayside when she recalls her reaction to receiving the scholarship. "I was happy...but then nervous! And then happy. And then nervous," she laughs. It has been a long time since Sharee was in school, and she knows better than anyone what the stakes are for her success.
By covering tuition, books and even a laptop, the scholarship goes a long way toward making Sharee's goals a reality. And her own ambition will make up the rest. Sharee has spent more than a decade supporting her husband and her family in the most hands-on of ways. This new challenge requires her to channel that same energy in a different, more intellectual way that speaks to Sharee's beliefs. "You should never stop learning!" she urges.
This attitude is echoed by another of Sharee's personal codes: Commitment. Whether it's supporting her husband or carving out a career for herself, Sharee knows that throwing in the towel simply isn't an option. "I would tell military spouses not to give up," she advises, "; and to support their husband or wife no matter what." Flashing that trademark smile, Sharee is at once encouraging and firm. Much like Sharee's dreams, that smile refuses to be quashed.
Providing for her Family
Sharee's fortitude is serving her well when it comes to facing academic rigors as well as personal challenges. When Todd returned home, Sharee found she had additional challenges ahead of her. Until then, she had somehow managed their home and cared for their 7-year-old autistic son while Todd was away. But Todd's military retirement heralded a massive change for Sharee, who had to leave her job as an accountant to stay home and help support her military veteran husband while he recovered from injuries sustained in combat.
Five years later, Todd still faces challenges, but he is back on track with his life. While he works as a management analyst for the USDA, he is also pursuing higher education. Todd is now attending CTU on scholarship to earn a graduate degree in Healthcare Management and Human Resources Management. But Sharee still worries about the future. "Financial stability is one great challenge that is looming over our future," she explains. "The prognosis of [Todd's] health is unknown, and if anything were to happen to him since he is the sole provider, our family would be devastated."
Sharee, however, is not easily defeated. As her smile suggests, she may be quiet by nature, but she is also strong. While Todd was away, she relied on her network of family, friends and counselors to help her survive. Today, she is ready to thrive.