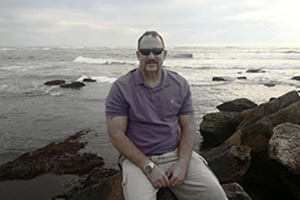 The Wounded Warrior Scholarship is a unique opportunity for military personnel and their spouses to pursue higher education at Colorado Technical University. Since 2008, CTU has given away 25 scholarships each year to Wounded Warriors, and 25 additional scholarships each year to Wounded Warrior spouses. Twenty-five year Army veteran Scott Beaudry received the scholarship and is now pursuing a bachelor's degree in business.
Scott Beaudry was a fighter well before he became a soldier. While this seems like a minor distinction, it's pivotal to understanding the man behind the distinguished military career. "Perseverance is my strength," Beaudry explains. "I take each obstacle in life and find some way to overcome it."
Army Man
Beaudry met his first obstacle in the form of a high-school guidance counselor who told him he didn't have the preparation or the grades to go on to college. Beaudry, who'd wanted to be a pilot, responded in true characteristic fashion. "Right then I told myself that I had to find something I could be good at and would challenge me every day," he recalls. "A year later, I was in the Army where I served 25-plus years and had a tremendous career."
Beaudry retired in 2013, but his military training is still evident in his meticulous dress and precision. It also shows in his conversation. He answers each question directly and succinctly, with a hint of a Boston accent – his eyes flashing only a little when he finds something funny. When discussing sensitive subjects, like when he was injured in an IED attack, Beaudry averts his eyes. Ever the soldier, he won't avoid a question, but he can't quite erase the emotion either.
This transition back into civilian life is, Beaudry admits, slow-going, perhaps because more than half his life has been spent fighting.
Three years after joining the Army National Guard in 1987, he found himself in the thick of Desert Storm fighting. "It seemed like every war that popped up, I was there," Beaudry says. "I spent a lot of time in the Middle East."
It's a description that glosses over the terrifying reality. Endless indirect fire kept Beaudry awake at night, while the days found him chasing down death squads. Bullets flew from every imaginable source, whether it was specialized snipers or drive-by shooters. Bombs exploded. IEDs were detonated. And eventually, in 2003, an IED in Fallujah got to Beaudry.
At first, the injuries seemed manageable, and Beaudry, as he puts it, tightened his bootstraps and went back to work. But the damage was done, and it only got worse with time, gradually unraveling him. "During my sixth deployment, this time to Afghanistan, it hit me like a ton of bricks," Beaudry says. "I finally had enough and sought medical attention."
Turning the Page
Beaudry was diagnosed with PTSD and traumatic brain injury (TBI). "I still don't feel whole," he admits. "I feel parts of my combat tours are scrambled somewhere in my head." Yet his fighting spirit remains intact. As a divorced father of two in his mid-40s, it would be easy for Beaudry to throw in the towel of his ambition, settle into a routine and try to forget the bad parts of his past. But that simply isn't Beaudry. After being out of school for more than 20 years, he's jumping back in with a Wounded Warrior Scholarship to pursue a bachelor's degree in business at Colorado Technical University.
Beaudry first learned of the scholarship from a friend and immediately applied. "I didn't get it the first time, but perseverance paid off," he says. After applying a second time, he got a call informing him he'd been granted a scholarship not just for one year but for the four years it will take him to earn his degree. His response? Disbelief. "I was pinching myself," he says, his mouth twitching with the smile some part of him wants to express. "It's hard to grip."
Today, as Beaudry embarks on this latest mission of academic achievement, he is contemplating his future a little bit more than the soldier might once have done. He wants to open a homemade-ice-cream business. He wants to help other Wounded Warriors and possibly open a nonprofit organization. These goals are hardly in accordance with the "coldhearted, battle-tested soldier," Beaudry describes himself as being during his military career, but they align perfectly with the man outside of the uniform. He is, remember, a fighter, not a soldier, by nature.
"The legacy that I want to leave behind is that I was a pretty good guy," he says quietly. It's a telling admission. And this opportunity to earn his degree is instrumental in his accomplishing that because it will allow him to start a new civilian life rooted in the principles he fought to protect.
But for Beaudry, life these days isn't all sober reflections and serious planning. In a gesture of hope and humor, Beaudry's final words of wisdom aren't about war, career or even success. They're about baseball. "Go Red Sox," he declares with characteristic understatement. Then, uncharacteristically, Scott Beaudry laughs.