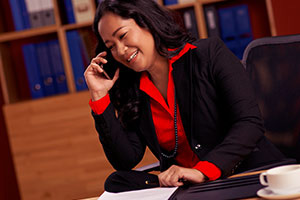 You've made it past the first hurdle in your job search – you were selected for the first round of interviews. But don't celebrate just yet. Read our phone interview tips to know what to do and what to avoid.
The phone interview is a way for employers to quickly and inexpensively whittle down their list of potential job candidates to the chosen few who will be invited to a face-to-face interview. In some cases, you may only have as little as 15 minutes to make a strong first impression. Even the slightest mistake could take you out of the running.
Whether you're scheduled to speak with a recruiter in human resources or the hiring manager, the it is your best chance to make a strong first impression. Here are five mistakes you should avoid to improve your chances to getting to the next step in the recruiting process:
Mistake #1: Get Distracted By Shiny Objects
To do your best, you must be 100% focused on the call. It is important to remove any potential interruptions that may make you appear to be less than attentive to the caller. That means turning off devices that might unexpectedly erupt during your conversation, like a cellphone, a tablet or a computer. It's also a good idea to turn off the call waiting feature on the phone you're using.
Ideally, you'll use a landline in a quiet room to take the interview. This may sound like a drastic measure, but lock the door. You don't want someone with a boisterous voice walking in during your call. If you're taking the call during work hours, then you might need to do the interview from your car to ensure a quiet environment. If that's the case, be sure you have strong cell service before the call. You don't want to spend the majority of the call asking, "Can you hear me now?"
Mistake #2: Not Knowing Your Audience
A common goal in is to screen job candidates to determine if you're a fit for the company culture, or to determine if you have the knowledge and skills needed to perform the job. But don't leap to conclusions. Spend time first, researching the company you're interviewing with. The intent of research is to find out basic information about the company, and also to decide if you have the desire and interest to stand behinds its values and goals. Employers like to hire people who are fans, not just paycheck collectors.
Dig even deeper to also find out the name of the person you'll be speaking with during your interview. Use LinkedIn and other social media platforms to learn more about the person's background. You're looking to gain familiarity about the person, but also seeking potential areas where you might have commonalities to connect – for example, a shared interest in a cause.
Mistake #3: Researching the Company, but Not Yourself
Spending time learning about yourself is just as important as learning about a prospective employer. Take a talent inventory by listing your experience, knowledge and accomplishments. Use that list to further identify the skills and attributes that make you perfectly suited for the job you're interviewing for. This step helps remind you of what makes you the ideal pick for the job, but it also helps you develop selling points that can help when responding to interview questions.
For instance, "What are your weaknesses?" is a common interview question. When you've prepared a personal inventory of your skills, knowledge and talent and studied that alongside the job requirements, it's easier to form a thoughtful response. By the way, avoid the dated trick of turning a weakness into strength. Instead, pick a skill you want to improve upon and describe what you're doing to make that happen.
Mistake #4: Overlooking Unspoken Communication Cues
In the absence of a face-to-face interview – where you can rely on facial cues and body language to convey your interest in a job – you must find a way to convey energy and excitement about the job without appearing overly enthusiastic. That may seem impossible over the phone, but there are simple steps you can take to enhance the quality of the phone conversation.
First, follow the most critical element of communication – listen. Allow the interviewer to fully complete his or her thought before speaking. If you need clarification, ask for it. Then, take a moment to mentally prepare your response. When you're ready to speak, consider standing up, and smile! Although the person on the other end can't see your smile, it can be heard. Also feel free to use hand gestures that you might normally use if the interview were happening in person.
Mistake #5: Forgetting Communication 101
A critical element of your is the quality of your communication skills. Interviewers are not only assessing the content of the interview (what you say), but also your ability to effectively convey your ideas and build a connection (how you say it). You must be able to respond to questions in a clear and concise manner, which means preparation. If you can't communicate well in a one-on-one conversation, your ability to do so within a team may be questioned.
The good news is that phone interviews gives you the chance to refer to notes. So prepare good ones and use them. For some, that's a single sheet of paper (you don't want to be caught rustling papers – distracting!) with a simple bulleted list of your key accomplishments and selling points.
And finally, don't rush. Pace yourself. You may only have a short period of time to make a strong first impression, don't waste it by moving through it so fast that you're incoherent. To proactive your pace, you might record yourself responding to interview questions. Listening to the playback can also reveal annoying communication ticks like "um," "yea," and "well." Eliminate those and become comfortable in the momentary (and sometimes painfully silent) pauses that may occur during an interview.
Final Tip: Act First
Following your phone interview, you may be so relieved it's over that you forget the most critical step – follow-up. That means not waiting for the interviewer to call you back, but acting first. Send a "thank you" note. Email is commonly used, but the handwritten note can go a long way even if it is received a day or two later. Then, follow-up with a phone call 2-3 days after your interview with either a question or an offer to provide additional information that might be helpful in their decision-making.