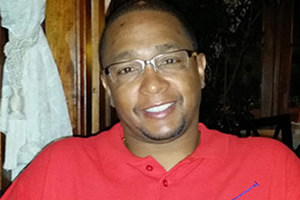 College wasn't new for Jarrad Jerome Davenport, a Wounded Warrior Scholarship recipient in 2014. He had previously attended school in 1990 in pursuit of an accounting degree. Since that time, a lot had changed in the accounting field and Jarrad wanted to get the formal education to supplement his military finance background from the U.S. Army.
When considering a return to school, Jarrad wanted to ensure that he was making a decision that would be financially prudent. With the Wounded Warrior Scholarship covering the cost of his tuition, books, and a laptop computer, those considerations were put at ease. With the finances being taken care of, Jarrad wanted to ensure that he was learning relevant material and getting credit for what he already knew.
Jarrad received credit for his time at his past education, but he also received credit from another source: military experience. "What was an added value for me that my military transcripts provided some help. My junior college did not even consider my military transcripts." By receiving military transfer credit, Jarrad was able to pare down the number of courses he would need to take while at CTU.
In addition to receiving transfer credit, Jarrad used intellipath®, CTU's adaptive learning platform, that helped him to forge ahead with learning new material. intellipath® takes students through a series of questions, then the adaptive learning technology recognizes what you already know, anticipates what you're ready to learn and tailors your course materials accordingly.
Beyond the credit received, Jarrad said his admissions advisor for getting him in the right mindset for college and lauded the flexibility of CTU's online learning environment. "When you go to a traditional college and you are sick and out of class, you have to find a way to make up that information. At CTU they have solved this problem by recording all the live chats."
Jarrad has a goal that is quite clear; he wants his education to open up doors that may have previously remained closed. He is taking full advantage of the Wounded Warrior Scholarship program to reach his goals and make his aspirations become reality.
To find out more about CTU's Wounded Warrior Scholarship program, click here.
For information on CTU's degree offerings, click here.