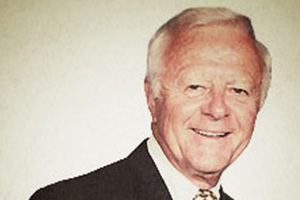 By Emad Rahim, D.M., PMP
In August, we launched Colorado Technical University's new Distinguished Lecturer Series with Amy Powell, Director of Operations for Starbucks Coffee Co. The hour-long webinar discussion focused on operational excellence. The CTU Distinguished Lecturer Series will continue on November 13th with renowned author and educator, Dr. Gene Landrum. As the originator of the Chuck E. Cheese's concept, Dr. Landrum is the epitome of a successful entrepreneur. I recently had the opportunity to ask Dr. Landrum a few questions to gain his perspective on Entrepreneurship.
What is an Entrepreneur?
An entrepreneur is an enlightened renegade who refuses to kow-tow to conventional wisdom and is always willing to bet what they have to get what they want. Entrepreneurs tend to be radicals on a mission to sate a deep-seated passion; an obsessive Promethean (Intuitive-Thinker) willing to sacrifice all for the redemption of a dream. And strange as it may seem, an entrepreneur tends to leap before they look. That is scary for security-driven traditionalists who tend to see the entrepreneur as some kind of sociopath lost on a misguided venture. But their leaps are for a dream where being prudent isn't likely to win any gold medals. That doesn't mean the entrepreneur makes radical decisions or isn't rational. It just means there isn't much they won't do to see their dream commercialized. As any world-class athlete will tell you, those who are uncertain when in the heat of battle end up as casualties. The entrepreneur, like an athlete, should come prepared with a mindset to win.
How did you get your start in business?
At a very young age I started in marketing sales, moved into sales management followed by a position as Branch Manager and ultimately as VP of Sales in the office product business. I later became a VP of Marketing & Sales for a subsidiary of a Fortune 500 firm – Rockwell Int'l and opened 65 sales and service organizations throughout the United States and Europe. I became a CEO briefly for a minicomputer firm before becoming the General Manager for national semiconductor's entry into the consumer products business where I built 30,000 hand-held calculators a month and 10,000 LED watches in factories around the world. From there I developed the specs for the first consumer video game - the Atari 2600. While waiting for it to go through engineering Nolan Bushnell (founder) asked me to study the Chuck E. Cheese concept and made me President. I created the concept from scratch and rolled it out. I was hired from there by Physica PhD to run a Solar Energy firm in Princeton, NJ, Chronar and was the CEO of the Sunergy division of solar lighting. From there I moved to Florida and completed my doctoral work on the Innovator Personality at Walden University. I began teaching at Hodges University and began writing and publishing books, 18 of which are currently in print.
What is the magic behind the drive?
The one absolute about the entrepreneur is that they can't wait to get to work in the morning and often refuse to leave at night. For them it isn't work but an exercise in fulfillment. Money for them is not nearly as important as the opportunity to fill a market void. It is why Mark Zuckerberg of Facebook fame, at 23 turned down $50 billion for his firm. Entrepreneurs are Passionate, don't drink decaf, and end up with 5X more assets than hired hands. In my upcoming talk I have a slide asking, What is the #1 cause of not being entrepreneurial? the answer, Fear of Failure and being classified as being a renegade! I will present another slide: You have one chance to launch a new venture - don't let some idiot tell you "No!" due to early costs. I will present 13 rules for fame and fortune as a self-employed maven, especially if things don't go well. One is to never, ever listen to so called experts. When launching Chuck E. Cheese I brought my mother to San Jose, California to see the prototype and when I asked what she thought of my new concept she asked, "Honey, when are you going to get a real job?" Wow!


Bucky Fuller proclaimed in Critical Path, "You can make money or make sense because the two are mutually exclusive. The drive to make money is inherently entropic for it seeks to monopolize order." And like him, successful entrepreneurs would never be heard saying, "you can't do it as it is not in the budget." They are not into policy manuals or any other ritualized systems. Sam Walton violated rules in launching Wal-Mart and do you think Thomas Edison was ever conservative? Never! When Edison was told no one would take chance on producing his incandescent light bulb he vowed, "It is factories or death," and put up his own money to build the first GE plants.

It has been found that most great breakthroughs have occurred during periods of breakdown. During my presentation I will explain why Crisis is the Mother of Creativity with stories about Henry Ford, Walt Disney, Bucky Fuller and Martha Stewart having won the entrepreneurial wars after having been fired.