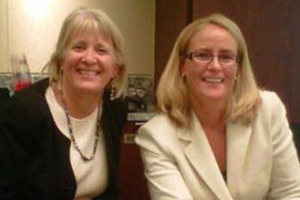 By Emad Rahim, DM, PMP
Recently, Amy Powell, Director of Operations for Starbucks Coffee Co., led a webinar on operational excellence and efficiency for Colorado Technical University business students. Within the hour-long discussion, which was part of CTU's new Distinguished Speaker Series, Powell covered a variety of topics – including a brief history of Starbucks and an overview of the company's corporate values. While it was interesting to learn about how the renowned coffee company impacts employees, project management, and influence, I think the most valuable concepts were the result of Powell sharing lessons she has learned as a leader. Here's a quick recap of Powell's recommendations:
Take risks! Powell made a great point: "If you don't take the risks, you will always wonder what could have happened." Don't be afraid to take a leap; even if the outcome is not ideal, it provides you with the opportunity to learn the next time around.
Continue to develop yourself and your professional skills. If you're not developing yourself, you're coasting. "If you're coasting, it means you're going downhill," said Powell. "Don't get comfortable. Continue to develop. Those around you will continue to develop."
Build on your strengths. We all have strengths. Figure out your strengths, and work to maximize them. "If you build upon your strengths instead of just focusing on your opportunities, you'll be able to grow faster and impact those around you quicker," Powell stated.
Don't underestimate your impact or your wake. At some point in your career, it's likely that you will work with someone who impacts your perspective. During her discussion, for instance, Powell gave an example of how when a manager says he/she doesn't like something, it influences how an employee looks at things from that point forward. "We can all make a wake, but it doesn't need to be negative," said Powell.
Lead with questions, not statements. While it may be easy to advise people on what to do, it's more beneficial to help them along the way and allow others to figure things out for themselves. "The real learning is by ensuring that we're asking the right questions and we're letting others learn," Powell said.
Journal. It doesn't have to occur every day, but it's a good practice to keep a log of what you're doing. In writing everything down, you can review what you're doing well as well as see where you can improve.
After hearing Powell's tips, it got me thinking: What other insights could those with leadership aspirations benefit from? Here are some of my lessons learned that immediately came to mind:
Prioritize. Prioritize. Prioritize. People may have an ultimate goal, but there are small projects and tasks that need to be accomplished along the way to get them there.
Collaboration provides new perspectives. While it may be gratifying to say, "I did this all myself," it's OK to ask for help, advice and constructive criticism every once in a while.
Don't be afraid of the non-traditional approach. There's never one formula to achieve something.
Don't focus on all business all the time. While completing certain tasks and achieving success is the ultimate goal, it's important to have a work life balance so you don't burn yourself out.