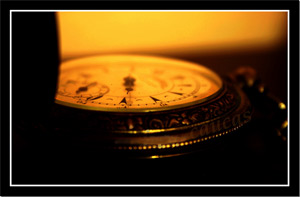 By Jon Bottari, M.Ed. – Adjunct Faculty
It seems that life throws us curve balls at the most inopportune times. Have you ever been late trying to get somewhere and catch every red light? Or have you started a new job and all of a sudden your children are sick? Many people put off their education waiting for "the right time" to come along. In reality this perfect time rarely presents itself. The key to beginning your education, despite the curve balls life will throw, is finding the right balance between organization and time management. These skills are critical to ensuring you can get through these difficult times with your best foot forward.
How well do you manage your time? In order to improve it is useful to look at how you're spending your time today by taking a time management assessment. This tool will give you insight as to where those lost seconds or minutes go that seem to frustrate us when we catch that third red light in a row. Tracking where your time goes can be an eye opening process. Once you are aware of how you spend your time you'll be better equipped to reallocate how your time is spent.
Today's student success strategies will focus on time and how best to manage it.
Time-management
Recognition of the need to manage time properly may not be an 'aha moment' per se. It does, however, serve as a reminder to focus on those things that are important to reaching your goals. Take a look at the available time in your schedule and make a plan for how you will spend it. Make sure you utilize the entire period so you don't have too much lost time staring at the wall watching paint dry! If you find spare time, use those extra minutes to read a page or two from your text, or compile some of the references for the research paper you are working on. At the end of the day reflect on what you accomplished. Was there room for improvement?
Starting is the hardest part
Falling into the black hole of 'perfection' can be a huge setback to your time management structure. The human mind works in mysterious ways, and trying to overthink can lead us down the wrong path. If you're stuck…just start somewhere. Writing a paper can seem like a daunting task until you break it down. Start by outlining the structure of what your paper should include: title page, abstract, introduction, etc. Rest assured that there's no right or wrong way to start. Everyone has their own approach to get that proverbial 'mouse on a wheel' up and moving in our heads.
Tackle the beast FIRST!
Do the hardest or your least favorite part of the task FIRST! Trust me when I tell you this works. Finding an excuse is very easy when facing an unpleasant task. Our brains have an amazing capacity to distract our focus. Taking out the garbage even sounds fun when you have that big hairy project to tend to! So instead, tackle that monster, first. It can help make the next task on your list seem much easier to manage. Your efforts will be more effective as a result.
Have you tried any of these success strategies in your own studies? Which have been the most effective for you?
Image credit: 123RF/Stephen McSweeny

As an adjunct professor of general education at Colorado Technical University, Jon Bottari, M.Ed., helps prepare new students for academic and career success. He earned his Master of Education degree with a specialization in Leadership of Educational Organizations from American InterContinental University and serves as CTU's Director of University Operations.