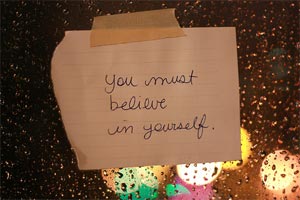 By Jon Bottari, M.Ed. – Adjunct Faculty
This four-part series of success tips by Jon Bottari, M.Ed., is designed to help students get the most out of their online learning experience. Part one of the series focused on study tips. Today he discusses strategies requiring self-motivation.
The term non-traditional student once referred to students taking online courses. Today, though, the online platform is becoming the new tradition, thanks to factors like convenience, cost, and easy access. As noted in part one of this series, online learning is becoming the new tradition, especially when so many students say they learn more in classes with online components.
Getting the most out of the online, or any educational environment, though, takes more than the development of specific goals to foster productive studying. It also takes individual "will" to be a successful student, which is the focus of our next three success strategies.
Be Self-Motivated and Self-Disciplined
Self-motivation and self-disciplining behaviors can be among the biggest challenges a student will face. Both can come, however, if you work at it. If there's one critical element, it's this; according to personal development blogger Ian McKenzie, "Keep a positive attitude: There is nothing more powerful for self-motivation than the right attitude. You can't choose or control your circumstance, but can choose your attitude towards your circumstances."By honing your self-motivational skills, you will experience the benefit in the classroom, your work and personal life.
Communicate Through Writing
The online environment offers multiple ways to engage with other students, faculty, and your school's staff. The majority of these are in written format. In the virtual classroom, nearly all communication is written, so it is critical that students feel comfortable in expressing themselves in writing. Take the time to be proactive and utilize the available tools in order to improve.
Don't Be Afraid to Ask Questions!
Too often, students ask themselves, "Is this a bad question?" when truly the only "bad" question is one that is not asked. Many times when you are the first to ask a question, it gets the "question motors" revving. Others will feel more comfortable asking as well, making for a far more productive conversation. Some worry that they are bothering the university by reaching out. Actually, a great way to make the online classroom more tangible is by speaking to a live person!
Setting and meeting goals, adapting your mindset and developing your skills will enable you to create a solid platform for productive online learning. Next week we will focus on strategies for overcoming obstacles.
What motivates you to succeed?

As an adjunct professor of general education at Colorado Technical University, Jon Bottari, M.Ed., helps prepare new students for academic and career success. He earned his Master of Education degree with a specialization in Leadership of Educational Organizations from American Intercontinental University and serves as CTU's Director of University Operations.