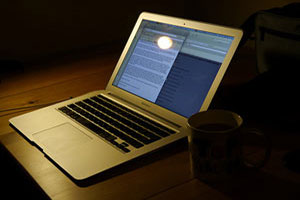 By Jon Bottari, M.Ed. – Adjunct Faculty
The term "non-traditional student" once referred to students taking online courses. Today, though, the online platform is becoming the new tradition, thanks to factors like convenience, cost, and easy access. In fact, a recent study by Ambient Insight projected that more than 25 million students will take some or all of their classes online by 2015. And that kind of growth is understandable, when nearly 60 percent of undergraduates said they learned more in classes with online components.
Getting the most out of this new learning tradition can be challenging for students. As a former online student, as well as an online instructor, I've found there a number of helpful ways to approach distance learning. I've developed a list of 12 success strategies to help overcome some of the obstacles an online student can face. In fact, many of these tips are applicable in all learning traditions. Today, we'll focus on the first three strategies.
Be Attentive During Chat Sessions
An effective online platform should have a live instructor leading the chat. Be sure to use that time effectively. While there, focus on what is being taught and try to avoid distractions. This means you should put down that spatula and turn off the TV! If you can't participate in the live session, be sure to view the archived version with pen and paper ready to take notes.
Set Study Goals
Your approach to learning should be no different than any other goal you want to achieve. When planning your weekly schedule, be sure to plan your study times in advance and set goals to accomplish within the allotted time. Structure your day or week around when, and how long, you will study. Whether it's 20 minutes during your lunch break or waking up before the chaos of filling bowls of Fruity Pebbles, you might be surprised by the amount of free time you find when structuring your weekly schedule.
Limit Your Study Time
Simply put, don't overdo it. By segmenting your study time in 50 minute increments with 10 minute breaks, you can avoid study burnout. A break can leave you feeling refreshed and your mind will have time to refocus on doing your best work as you begin your next segment.
Many of these tips will build upon each other. You'll find, for example, that if you are setting your study goals properly, it will be easier to limit your study time. Here's to your ability to succeed at your educational goals!
Stay tuned for part two of my online learning success strategies series.
Image credit: Flickr/Oliver Quinlan

As an adjunct professor of general education at Colorado Technical University, Jon Bottari, M.Ed., helps prepare new students for academic and career success. He earned his Master of Education degree with a specialization in Leadership of Educational Organizations from American Intercontinental University and serves as CTU's Director of University Operations.