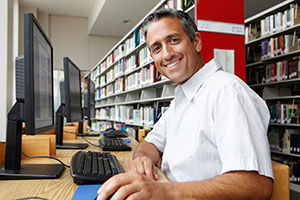 What Is an Informational Interview?
An informational interview, conducted with someone in a position or field you are interested in, can be a great way to gain insight about a specific career field. Without the pressure of a job interview, you can find practical information about your future career and understand what training and experience might be useful.
How to Arrange an Informational Interview
First, find professionals in your desired field by reaching out to companies with employees in that area. For example, if you want to work in property management, then you could call a local builder. You might also use LinkedIn connections to help you find appropriate contacts.
Next, explain your interests in the specific career field and ask for the opportunity to get feedback from someone with experience in your chosen field—give a little background about yourself and why you are drawn to that field. Discuss the steps you are taking to prepare for your career like earning an online degree. Offer to sit down with them for lunch or schedule a phone conversation—all you need is about 30 minutes.
Questions to Ask In an Informational Interview
What are the best aspects of this career?
What are the least enjoyable aspects of this career?
What has been most surprising about this career?
How would you compare the picture you had of your profession while in school to the reality of your profession now?
What personal characteristics are needed in this job?
What is a typical day like?
How many hours do you work each week?
Is your career fulfilling?
What are the salary expectations in this career?
How stressful is this career?
What is the work environment like?
Is advancement in this career field easy or difficult?
What short term and long term changes do you foresee for this career?
Would you choose the same career again?
What classes will be the most valuable to me in this career?
What is the best way to market my education in my job search?
What is the best way for students to network in this field?
Is an internship useful for getting a job in this field?
What do I need to showcase in a job interview to get a job in this field?
What is the best way to go about getting my first job in this career field?