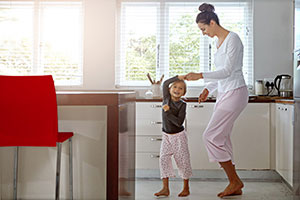 Stay-at-Home Moms Can be Successful in Distance Learning Programs at Online Colleges and Universities by Keeping These Tips in Mind
As a stay-at-home mom, you may wonder whether an online degree program is right for you.  The fact is, getting a degree from an online university is one of the best options available and it's perfect for moms.  Online programs offer flexibility, convenience and attainability that can be an ideal education solution for stay-at-home moms.
By taking classes online, a mom can easily fit her school work into her already busy schedule.  Nap times, after the kids are in bed and when they are at play dates are all opportunities to log in to a class without having to spend time driving to and from campus.  In fact, you can attend your online class in your sweats or pajamas if you like – the right time to attend your online class is whenever it's convenient for you.
Stay-at-home moms can also save a good deal of money with online learning.  The secondary costs of attending college are generally less, because you don't have to worry about having nice school clothes, and you don't have to waste gas commuting.  Of course, the biggest savings is the cost of childcare.  Online learning allows you to take the courses you need for a certificate or degree without having to pay a babysitter several days a week.
If you've decided that you want to pursue an online degree, there are several ways to improve your chances of success.  Our online learning tips for stay-at-home moms will make the experience a positive one.
Don't bite off more than you can chew.Although you may want to sign up for as many classes as possible, it's not a good idea during your first semester.  Take a few entry level courses to start so you can get a feel for how many hours you need to dedicate to your classes each week.  By starting slow, you'll learn to pace yourself without being overwhelmed.  It's easier to add additional courses the next semester than it is to drop out of one now.  Remember, online college classes are just as challenging as the classes at a campus university.
Make sure your family and friends are committed to helping you.  Having a husband or family friend who is as excited about your online education as you are is a tremendous help.  They can encourage you and keep you on track.
Learn to accept help from others.  Don't be afraid to ask your husband or a family member to watch the kids or take on a few chores for you when you're working on a big project such as a term paper.  It's okay to ask for help occasionally, and the people who love you will be glad to help you achieve success.
Create a dedicated learning space for your school work.  You don't have to have an entire room or an office, but you should set aside at least a corner of your bedroom or family room that is strictly for your school work.  Keep your computer, some tablets, pens and pencils and your text books together so that you can easily sit down and begin studying at any time.  Having to run around the house looking for your books and notes can be frustrating and time consuming. Be sure everyone knows that your study space is yours alone and should be treated with respect.  You'll also find that you're in the right frame of mind to study when you have a space set aside as your mini classroom that you can regularly go to when you need to work on your assignments.
Keep your eye on the goal.  Every stay-at-home mom runs into unexpected stumbling blocks when pursuing an online education.  It might be a child who's sick, a change in your husband's schedule or simply feeling like you have a lot to do and not enough time.  Make getting your online degree a priority!  Keep in mind that your education will make you a better person, give you personal satisfaction, not to mention the fact that it prepares you with better skills in your chosen subject or field.  If you focus on the end result, you'll be able to keep temporary set-backs in perspective and keep studying.
Manage your time effectively.  You'll need to study several hours each week when you're pursuing an online degree.  The easiest and most effective way to find the time for this is to work in small increments.  You'll enjoy your work more and retain more of what you read if you set aside an hour each evening instead of trying to cram everything into a six hour stretch in one day.  Take advantage of each small window of opportunity such as your children's nap time, the hour after they go to bed or even the first hour in the morning before everyone else gets up.  You'll be amazed at how much studying or reading you can get done when you break it down into hourly or half-hour sets. 'Budget' your time wisely and it will pay off in the end.
Don't be afraid to participate in class.  You may not be in an actual classroom, but you can participate with your teachers and classmates in an online classroom.  You can participate in group chat sessions, email your classmates and teachers, and post messages on the message board.  Interaction with others can give you great insight into your class and give you the opportunity to learn from others.
Let the teacher know if you need help.  Don't let yourself sink if you're feeling overwhelmed or confused by a topic in any of your online classes.  Teachers at online universities welcome questions from their students and will quickly respond to an email or phone call.  Your teachers are there for you and want you to succeed, so make full use of their time.
You'll soon discover that your online education is as exciting as it is rewarding if you keep these tips in mind.
Colorado Technical University is accredited by the Higher Learning Commission and a member of the North Central Association (30 North LaSalle Street, Suite 2400, Chicago, Illinois 60602-2504) www.ncahlc.org.
CTU does not guarantee employment, salary, or performance of graduates.