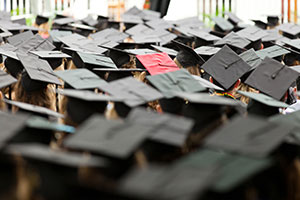 Patriotism, honor, dedication. All valid reasons for enlisting to serve your country as a member of the Armed Forces. But what about education? Learn more now.
When did you first think about enlisting? Was it after you'd seen ads on television? Maybe you watched as friends from your graduating class were whisked away to basic training, nervous, excited—and full of pride and purpose. Or maybe you just felt called to serve your country. There is sacrifice involved in military service, but also many benefits: a stronger character, lifelong friends, unique skills. There are also benefits of a more material nature offered by the government and private sector in return for your decision to serve. One of the most important of these is educational support. Don't let your hard-earned educational benefits lapse for lack of information. Learn how to begin taking advantage of this sometimes hidden benefit of military service.
Get In Touch With Veterans' Affairs
When you met with the recruiter, you were told about education benefits for service members, but with basic training looming on the horizon, college was probably the last thing on your mind. Redeeming your G.I. Bill or other benefits was years in the future. Now that you're facing the end of your military commitment, you might be wondering how well the skills that have served you in the military will transfer to civilian life. Don't worry: returning service members have plenty of opportunities to achieve and succeed after their military experience has ended. Whether you're a returning service member, active-duty service member, or are the family member of an eligible service member, there are programs in both the public sphere and private sector that will help you earn a college degree.
The Veterans Affairs office (www.va.gov) can help you review government-sponsored educational assistance programs and determine which benefit will work best for you, even if you are still on active duty. Federal educational benefits for veterans and family members include:
Educational Assistance Test Program (Section 901)
Montgomery GI Bill - Active Duty (MGIB-AD)
Montgomery GI Bill - Selected Reserve (MGIB-SR)
National Call to Service Program
Reserve Educational Assistance Program (REAP)
Survivors' and Dependents' Educational Assistance Program (DEA)
The Post-9/11 GI Bill
Veterans Educational Assistance Program (VEAP)
Find A College That Understands Veterans' Needs
You understand that the decisions you make at this stage of your life are not to be made lightly. Having experienced military life with its tightly organized structure, you also understand the importance of choosing a school where there is similar attention to detail. You also want to be supported by intelligent, experienced individuals. Colleges and universities sometimes offer benefits to veterans and active-duty military above and beyond government-sponsored benefits. When researching a school, you may want to ask about the following increasingly common considerations offered to military students:
Application fee waivers
Laptop vouchers
Yellow Ribbon Program matching grants
Course transfer credit based on eligible military experience
Many admissions offices will have a person designated as a military student liaison, with experience guiding veterans through enrollment and with the transition to civilian life. Some schools, such as Colorado Technical University, even have a dedicated Department of Military Education that is devoted exclusively to the needs of veterans, military family members, and active-duty service members.
Investigate Online College Degrees
There are now more options than ever for where and when you take your courses. The better learning institutions will offer you access to a traditional campus, as well as allowing you to take advantage of online, interactive community learning at your pace and convenience. In fact, online options can be especially attractive to men and women still on active duty. Being able to jump-start your education will do wonders for your motivation and determination to succeed when you finally return to civilian life. There's also growing evidence that online learning, or a blend of ground and online learning, results in better understanding of material: a recent study commissioned by the US Department of Education showed a small but significant gain in performance when comparing online learners to traditional classroom learners.
When choosing an online college, you need to find one that is accredited. Regional accreditation, as well as program-specific accreditation, ensures that your degree is valid and also makes it more likely that your credits will transfer from one institution to another (bear in mind that it is up to the new institution to accept credits). Also be sure to choose an online college that offers as immersive an experience as possible: simply having texts available online isn't enough. Recorded lectures, clickable exercises, and (most importantly) plenty of chances to interact with professors and fellow students will make online learning rewarding for you.
You've worked hard for your country. Now work hard for yourself—with your country's thanks—by taking full advantage of your education benefits.
Colorado Technical University is accredited by the Higher Learning Commission www.hlcomission.org.
CTU does not guarantee employment, salary, or performance of graduates.
---
Resources:
"Learning online may be better": http://www.nytimes.com/2009/08/24/technology/24bits-002.html