Alternative Credit Project
Classes start November 13, 2018!
Alternative Credit Project
Earn Credit For What You Know*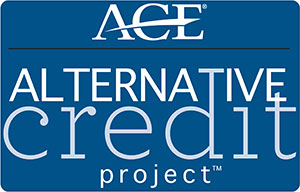 Started college in the past but didn't finish? The Alternative Credit Project™ (ACP) provides a list of courses that Colorado Technical University (CTU) will accept towards your degree (up to 90 semester/135 quarter hours of ACP credits based on your degree program). A national program of the American Council on Education (ACE), supported by a generous grant from the Bill & Melinda Gates Foundation, the ACP is designed to help adults graduate with a two- or four-year degree.
We understand you have a full schedule and pursuing your degree is a big commitment but a worthy achievement that can help open doors to a world of opportunities. Even if you're not ready to apply yet, CTU is here to help. We invite you to speak with one of our admissions advisors about your options and how we can help keep you on track and focused on your future with our wealth of resources. Request information today or call us at 1-888-496-0888.
CTU Accepts These Courses +
Apply ACP Credits to These CTU Degrees+
CTU Admissions Overview +
CTU Accreditation +
Location +
Technology Driven Learning Model at CTU +
Welcome Transfer and Military Students +