Program details are provided lower on the page.
Classes start July 7, 2020!
Re-Admission Students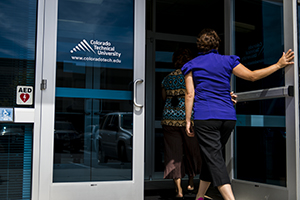 We're Glad You're Back
Life happens. We understand. Sometimes circumstances cause you to take a break from your education, and then new circumstances bring you back. If you withdrew from the University (not a dismissal*) and want to return to complete your degree, we welcome you to submit a new admissions application for consideration.
Keep in mind that when you re-enter the University, you're subject to the current policies and tuition and fees in effect at the time of your return. That means there may be new or different requirements for you to fulfill. Rest assured, we'll carefully evaluate all documentation, as well as your previous University record, to ensure any advanced standing earned will be accurately applied toward your current degree program.
How to Apply for Re-Admission
Online students
Contact the Re-Entry Department at 1.844.783.8630
Colorado Springs Students
Contact an Admissions Advisor at 719.598.0200
Aurora (outside Denver) Students
Contact an Admissions Advisor at 303.632.2300
You can also begin the readmission process online.
NOTE: If you attended another institution during your time away from CTU, please have copies of your transcripts ready to send to your Admissions Advisor.
* If you wish to return to CTU following a dismissal, please refer to the Dismissal Appeal section of the Colorado Technical University catalog.