Program details are provided lower on the page.
Classes start October 3, 2023 *
*Start dates may vary by program and location.
CTU Student Advising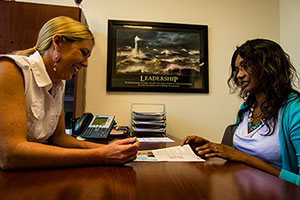 CTU's dedicated Student Advising team is a group of real people who act as advocates assisting students with their academic planning and concerns seven days per week. Advisors are here to answer student questions about their degree programs, aid students in understanding policies and procedures, work to promote high-quality interactions between students and faculty, and much more. Advisors are just one part of the supportive CTU community, helping students ensure their educational pursuits are balanced with work and family life.
Have questions about your academic progress, selecting or changing degree programs, transferring-in credits from another college or university, class schedules or would you simply like to learn more about Student Advising at CTU? We are here to help.
| | |
| --- | --- |
| Online: | 866.813.1836 |
| Colorado Springs: | 719.598.0200 |
| Denver South: | 303.632.2300 |