Richard Cai, Ph.D.
Executive Program Director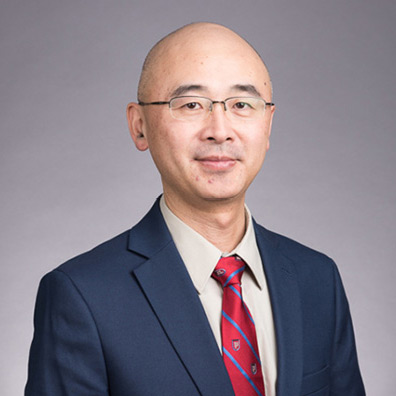 Areas of Focus
Computer Science
Engineering
Technology
Education
PhD, Computer Science, University of Illinois (2002)
MS, Computer Science, University of Illinois (1997)
BE, Aerospace Engineering, Beijing University of Aeronautics and Astronautics (1990)
Background
Dr. Richard Cai is CTU's Executive Program Director for the College of Computer Science, Engineering & Technology. In this role, Dr. Cai supervises curriculum design, development and revision for the degree programs offered in the college. He also plays a key role in the program assessment and accreditation.
Prior to joining CTU in 2015 Dr. Cai served as full professor for the School of Information Technology at American InterContinental University, where he also acted as a Program Chair and Dean. As Dean for the School of Information Technology he led bachelor's and master's-level IT degree programs while also working closely with program leaders across all departments. Before entering the higher education sphere Dr. Cai held numerous IT and engineering positions totaling over 15 years of industry experience and offered his expertise in roles as diverse as Aircraft Design Engineer, Sr. Software Engineer, and IT Consultant and Manager. Dr. Cai is also an active commissioner of ABET (Accreditation Board for Engineering and Technology). He has served as program evaluator and team chair for ABET since 2013.
Dr. Cai's teaching philosophy is that learning needs to be student centered. The goal of my teaching is active learning. My role in teaching is using my expertise to help students to gain the necessary skills to take control of and become active participants in their own learning. Higher education must go beyond simply passing on information. I believe student engagement is one of the important keys to successful learning and knowledge obtained through active participation is knowledge that will stay with a learner.
Publications
Cai, L.R., Adaptive Learning Practice for Online Learning and Assessment, accepted by 2018 International Conference on Distance Education and Learning, May 2018
Cai, L., Carl, C. and Huang, J., Supporting Agent-based Distributed System Development through Modeling and Simulation, Proceedings of the IEEE Future Trends of Distributed Computing Systems (FTDCS'2003), May 2003
Chang, C. and Cai, L., Agent Based Requirements Evolution over the Internet for Software Development, Proceedings of the 2001 Symposium on Applications and the Internet (SAINT-2001), January, 2001
Professional Memberships
IEEE, Computer Society
ACM, SIGCSE
Research Interests
Software Engineering, Distributed Systems, Cloud Computing, Mobile Computing, Petri Net Modeling and Applications