Program details are provided lower on the page.
Classes start October 3, 2023 *
*Start dates may vary by program and location.
Letter from the University President
Dear Students:
Welcome to our Denver South, Colorado Campus.
As president of Colorado Technical University, I remain honored to be a part of an institution that embraces diversity, stimulates student interests, and encourages our Denver community to pursue and achieve their academic goals.
At Colorado Technical University Denver South, you will meet classmates who come from different stages of life. Whether you study online, on-campus near the Mile High City, or a combination of both—you can choose when, where, and how to pursue your degree.
We embrace new and innovative technology to enhance your learning experience. Our award-winning CTU mobile app makes it easy to keep up with classes, access homework assignments, stay connected with timely notifications, and manage your education on the go.
You don't have to put your life on hold to receive an education at Colorado Technical University. Our flexible learning methods are here to serve you and accommodate your busy schedule. Furthermore, CTU's industry-savvy faculty structure courses to provide you with real-world knowledge and hands-on instruction.
CTU is committed to your ongoing personal discovery and academic achievement.
Again, welcome to Colorado Technical University.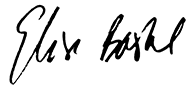 Elise Baskel
President