About CTU Aurora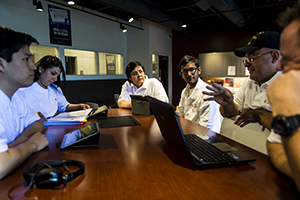 What sets us apart from other universities in Aurora, Colorado? CTU Aurora currently offers industry focused Associate, Bachelor's and Master's degrees in many of today's exciting professional fields.
Faculty with Real-World Experience
We offer quality facilities to prepare for exciting, innovative opportunities in fields that continue to grow more dependent on complex technology. With a host of local companies involved in aerospace, biomedicine, communications, information technology and financial services, Aurora has a wide range of choices for career-motivated individuals.
Our courses are designed and facilitated by full-time and adjunct faculty, many of whom are experienced in their respective fields. CTU's goal is to address the expected need for professionals committed to keeping their knowledge and skills current with industry standards.
Explore CTU
We invite you to explore our campus in Aurora. Once you learn a little more about the rich supportive environment of our advanced learning community, we think you'll feel right at home at CTU Aurora.
Experience Aurora
At 5,280 feet above sea level, the Rocky Mountains provide a breathtaking backdrop for the city's stunning contemporary skyline.
Today, Aurora is flourishing due to its diverse mix of industries, including tourism, electronics, computers, aviation, space exploration, global weather and telecommunications. To support the growth of these high-tech businesses, Colorado Technical University continues to grow with the city, expanding our degree programs and our impact.
All of these elements make Aurora, Colorado, an exciting, inspiring and dynamic city in which to live, study and achieve.