Program details are provided lower on the page.
Classes start January 2, 2024 *
*Start dates may vary by program and location.
Letter from the University President
At CTU, we think everyone deserves a chance at a good education. Whether you sit in classes at our Colorado Springs campus, attend online, or do both as a hybrid student, we want you to know that we're here to help you realize your education dreams. We hire industry-savvy faculty who structure classes to provide real-world knowledge and hands-on skills designed to help you prepare for your future career.
Since its founding in 1965, CTU Colorado Springs has helped its diverse student population pursue their personal and professional goals, no matter where they're at in life. Some of our students are attending college for the first time — and others are coming back for their degree after many years away from school. A large percentage of our students are working professionals juggling the demands of a family, a career and college. And many of our students are active or veteran military personnel preparing for the next stage of their lives.
Attending school while in the military or juggling a hectic schedule can be challenging. Our CTU staff understands these unique circumstances and works with each student, whether on campus or online, to maintain academic success as they work through their degree program. Our staff and faculty are here to support your educational goals, and our career services resources are available to continue to assist you after you graduate and prepare to enter the working world. We want you to be successful in what you do — and we are here to support you.
Again, welcome to CTU Colorado Springs. If there is anything I can do to improve your experience at the university, please contact me. I'm here to support you and ensure your college experience is everything you expect it to be.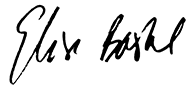 Elise Baskel
President