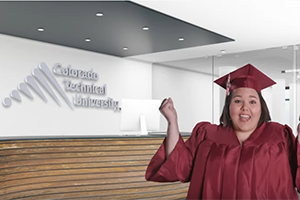 By Kate Silver
When 33-year-old Brittanie Gunn earned her bachelor's degree in business administration from Colorado Technical University in spring of 2021, her thoughts went to her dad. Fourteen years ago, he had encouraged her to apply for a job at McDonald's near their home, in St. Peters, Missouri. It was that job that would, in time, lead to her path to college, with financial support from Archways to Opportunity. Along the way, she also found personal fulfillment and professional mentors, all thanks to her father's suggestion. "My dad is the wisest man I know," she says.
Gunn admits that at age 17, she hadn't wanted to work at McDonald's. As a junior in high school, she was busy with classes and participating in theater, and the idea of flipping burgers didn't appeal to her. But she'd just lost her job at a local chicken restaurant, and wanted to find something new. "I don't know why I thought I was above working at McDonald's," she says. "But I needed a job." So she applied.
She was hired as a crew person at the Mid Rivers McDonald's, which is a part of the Christian Foods franchise owned by father-and-son team Chris and Dave Giarla. Immediately, she realized her perceptions about McDonald's had been wrong. Crystal Miller, the assistant manager who hired her, was happy to create a flexible schedule and work around school and theater commitments. And from the earliest days, Gunn felt a sense of community and camaraderie. "I learned to dismiss my preconceived notions about McDonald's. It was the 'McFamily' you hear about; when you work for a good owner/operator you feel that," she says.
Moving on up
When Gunn graduated high school, she became a manager at McDonald's. Initially, she balanced work with community college, pursuing her degree in theater. But she became frustrated when she had to study topics that didn't feel applicable to her future. "I was really unhappy in school," she says. She dropped out and co-founded her own theater company in St. Louis, called Tesseract Theatre.
At the same time, she continued to advance at McDonald's. Her work circle became her social circle. Miller, who'd hired her, became her best friend and mentor (Miller is now an area supervisor, as well). Chris Giarla also became a mentor, teaching her invaluable business skills. She also worked briefly with a man named Matt Gunn. He's now her husband.
In her current role as area supervisor, Gunn oversees a restaurant and helps train and develop employees at the 14 McDonald's in the Christian Foods franchise. After telling those employees, for years, about the educational perks in the Archways to Opportunity program, she decided to participate herself, and enrolled at CTU in 2018. "I have a lot of street smarts, but I don't know a lot about the ins and outs that maybe I've missed by not going to school," she says. Plus, it felt like an opportunity she'd be foolish to pass up. "I received a CTU grant and combined with Archways to Opportunity it covered the cost of tuition. The McDonald's alliance through CTU also pays for all your technology fees and pays for your graduation fees. And I got a laptop included as part of it all. It's insane," she says.
The emphasis of her program was on organizational management, and she learned about how to motivate people; how people work together; the influences of gender, age and culture in a workplace; how to do accounting. Unlike her previous college experience, it all felt applicable to her work and her goals. And when she completed her classes, her McFamily threw multiple graduation parties to celebrate her accomplishment.
Looking ahead
Owner/Operator Chris Giarla says that Gunn holds a special place in his heart, having watched her learn and grow since she was 17. "She didn't just work through the ranks, she also went the additional step and got the college education to meet a personal goal of hers, which in turn makes her more valuable to our company. I think it's just going to make her a better leader over time," he says. "I just don't know what I would do without her."
Giarla says Gunn helps with all aspects of the enterprise, from introducing new technology to building a unique company culture that puts people first. She also serves as a role model. "As the company has evolved over the last 20 years, I think it's become a vehicle to lift up and help people. Especially people that didn't get a chance to go to college, or maybe they didn't have a great upbringing, things of that nature. A lot of our people may not have had ideal mentoring growing up, and people like Brittanie fill that role," he says.
Gunn was selected by CTU to represent the student body as the student speaker for their 2021 graduation ceremony. CTU provided a film crew to record her speech. They needed a quiet location, and she knew just the spot: she spoke from the stage of her own theater. "It was really cool to have my two worlds collide," she says.
In her speech, she credited her father for steering her down this path, and she thanked the Giarlas and others for all they've done. "I would never have gotten the job if my dad hadn't said just go work at McDonald's. I would never have met half the people I know in my life," says Gunn. "And I am graduating thanks, in large part, to McDonald's employee education program and Chris and Dave. I just wouldn't be where I am today without the guidance, inspiration and the teachings of my mentors." Gunn is grateful for the love and support from both her family and her McFamily. Because of them, she's been able to influence countless others. "By working at McDonald's, I was able to unlock my own potential, and that helps me continue to unlock other people's potential," she says.
To learn more about the grant opportunities available to McDonald's Students at CTU visit coloradotech.edu/mcdonalds.
---