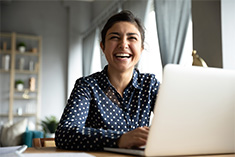 Stay motivated and keep doubts and focus on achieving your academic goals while pursuing an online degree. A supportive community of faculty, staff and peers can help encourage you to continue studying and keep your eye on the prize. Connecting with others who are experiencing the same things you are and sharing stories of perseverance really can help. Community isn't hard to find at CTU, even for remote students who don't see their classmates on campus.
Peer Mentoring
Even though online learning means you study remotely, you are not alone on your academic journey. CTU's GetSet Student Community brings University peers together to support and motivate one another. Together, students build a sense of belonging that is often found on campus.
In GetSet, you can seek advice, offer your perspective, or talk about the obstacles you're facing like striving for a healthy work-school-life balance, discovering what motivates you, or dealing with health issues while pursuing your degree. Sharing your experiences may connect you to others with similar interests or inspire someone else to tell their story.
Getting Started with GetSet
Here is how to set up GetSet:
Enter your username and password on CTU's Student Portal Login Page
Click "Community" on the upper toolbar
Fill out your profile
Subscribe to the topics that interest you
Link fellow students based on your shared experiences, interests or degree programs
Before you submit a post, think about your goals and personal circumstances:
Are you working full-time while taking classes?
How are you balancing work and school?
What is your daily routine?
If you're a parent, what challenges do you face while raising a family as you work to complete your degree? What tricks or routines have you developed?
What might you share with another student who is facing similar obstacles?
When you're ready to create a post:
Click the pencil icon to type (You can also ask or answer questions)
Click the lightbulb icon that says "Prompts" if you aren't sure what to write
Check the full list of daily writing suggestions as these can help strengthen your critical thinking skills or inspire you creatively
The "topic" icon will take you to a page of category options where you can scroll through posts written by your peers and share your comments
Once you share a post, assign tags related to your post to connect with others. For example, if you are writing about the start of a new quarter, you might tag your post with #NEWQUARTER. When you tag a post, it's added to a community of other posts like it.1
We Are Here for You
Finding your community as you navigate life as a student, employee or parent is vital and we at CTU are here to support you. Sharing your experiences with your peers can help build that community and allows people with similar experiences and interests to connect with you on a more personal level.
Seek support from your peers and contact your student advisor or instructor to talk about your academic goals and challenges.
---
1. "Using GetSet: How Do Tags Work?" GetSet Help Center. Accessed January 30, 2020. https://getsethelp.zendesk.com/hc/en-us