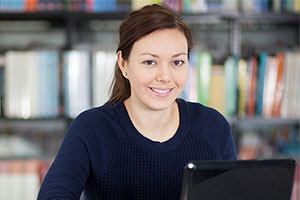 It's a New Year and time for some changes! Falling back into a routine is easy, but breaking from the same old can be a challenge. If you're feeling empowered to improve your mindset as a student consider the following tips to help inspire change and promote your growth in the coming year.
1. Find your passion.
Confucius said, "Choose a job you love and you will never have to work a day in your life." Picking a career path that fuels your passion can be one way to promote satisfaction in your life. If you're unhappy and are struggling in your current profession, ask yourself what one thing is you love doing. Sometimes we're not the best judges of what makes us happy, so ask friends or family if you need help to recognize the things you enjoy.
2. Take action.
Once you've identified your passions, ask if what you love can translate into a career or if you can you pursue your passions outside your job and still feel full. What you love may be separate from your professional skills or may not be moneymakers. So, if this is the case, find alternative ways to include what you love in your life if they don't overlap with your work. For instance, if you love crafting, schedule time to complete a monthly project and work on it a little each week. The idea is to make time for something you love.
If you can pursue your passion through higher education, research how you can further develop your knowledge and skills to build a career and continue moving forward. Will you need to complete an undergrad or graduate degree? Can you receive course credit for your real-world experiences? Speak with a Student Success Coach or college admissions advisor for direction.
3. Seek positive influences.
As a growing professional, try putting yourself in situations where you might build relationships with people who will push you to grow.1 Do you know someone with similar interests who could act as your mentor—a friend, teacher, manager, or coworker? A valuable mentor will share his or her experiences with you, guide you as you strive to achieve your goals, encourage you to push forward when you face obstacles, and help you focus on the positive instead of only seeing the negative. Brainstorm people who might act as positive influences and help push you to achieve your goals and then request their guidance.
4. Get "unstuck."
Is your inner voice holding you back, saying you're not smart enough, strong enough, or rich enough to go after your dreams or take on a challenge? If it is, ignore it! The most powerful weapon in your journey for happiness and success is a positive mindset. Eliminate the negative self-talk and ask yourself, "What is holding me back?" Could fear of failure or the belief you need permission to take action to achieve your goals be the cause? Are you worried about someone else's opinion? Remember, you do not need permission to be yourself. "Give yourself permission to be great" and go for it!2
When you avoid challenges, you hinder your growth. But overcoming challenges and improving your confidence when struggling with change is possible.1 Don't assume failure! Accept that pursuing your goals may not be easy and take action. Your courage could be valuable to your career and wellbeing in the long run.
5. Look at the positive when you fail.
Failure is an opportunity to learn and grow from your mistakes. When you reshape what failure is, taking risks may be easier for you.1 Ask what you could have done or would change next time and identify what was within your power to control. Don't blame yourself for things you can't control. Adopt this mindset to cut anxiety and promote positivity.
6. Take a leap of faith!
Include your passions in your life, even if realizing them will be challenging. Remaining stagnant and keeping your routine prevents growth. Although leaving your comfort zone may not be easy, you must take action to attain your happiness!
Are you ready to pursue a college degree? Contact a CTU Admissions Advisor for more information.
---
1. Patel, Deep. "10 Ways to Develop a Success-Oriented Mindset." Entrepreneur. Published February 18, 2018. Accessed December 18, 2019. https://www.entrepreneur.com/article/308895
2. Rahil, Luay. "Why Are You Stuck? 5 Questions to Shift Your Mindset And Get Unstuck." Lifehack. Published December 18, 2019. https://www.lifehack.org/828303/i-m-stuck