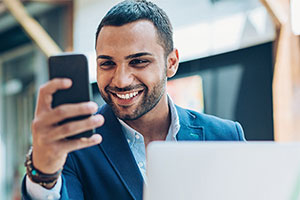 Online learning provides busy adults with an option to continue their education and add to their credentials. While online degree programs offer convenience and flexibility, there are other benefits you may not have considered.
As you explore your degree program options, consider these additional advantages of online learning:
1. Strong time management skills and self-motivation may appeal to employers.
As an online student, you may work full-time, support your family, and fulfill other responsibilities while pursuing your education. Your ability to manage your time is a valuable asset and is one skill that exhibits self-discipline and ambition.
Self-motivation says a lot about your work ethic, and future businesses may look highly upon your ability to balance your education and manage your time well. So, as you determine your educational path or proceed on course, remember the experience you gain by practicing these skills as a student and how potential employers may view them.
2. Accreditation standards offer degree credibility.
Checking the accreditation of an institution is essential when applying to an online degree program. When an institution of higher education becomes accredited, it shows that the school meets "acceptable levels of quality."1 There are several types of accrediting agencies, including national and regional accreditation agencies, and types of accreditation, such as institutional and specialized or programmatic accreditation.2
For an institution to gain accreditation, accrediting agencies create evaluation standards and conduct peer evaluations to determine whether a university or college meets an agency's criteria. If the institution meets the criteria, then the agency grants accreditation.1
Accreditation is an additional factor an employer may consider when seeking new employees. Although it doesn't guarantee a student's success outside the classroom, institutional accreditation does indicate that a college or university's programs adhere to or surpass the standards developed by experts in a particular field.3
3. Online education supports tech skill-building.
If learning a new technology leaves you feeling overwhelmed, you're not alone. In a world where tech is evolving, keeping up with the changes can be frustrating. However, the exposure and education gained by using technology in class forums, webinars, live video instruction, and classwork submission can help build user competency, add value to your learning experiences, to help you prepare to create and manage a lifetime of learning.4 The skills you pick up may also translate outside the classroom and in the workplace as well.
4. An online institution's social community can offer support.
Connecting with a university's social communities can be beneficial for a number of reasons. You can find motivation or tips from the institution itself – but also connect with your peers on a personal level. The contacts you make may also help foster your development as a student. You may even find career networking possibilities. CTU offers an online GetSet Community to connect fellow students in engaging ways outside of the virtual classroom.
Online learning has several benefits, including some you may not have considered. So, as you decide on the path best fit for your needs and goals, remember to research your options and consider all the benefits an online education offers!
Are you thinking about returning to school? Contact a CTU Admissions Advisor for more information.
---
1. "Database of Accredited Postsecondary Institutions and Programs." U.S. Department of Education. Accessed March 06, 2020. https://ope.ed.gov/dapip/#/home
2. "Accreditation in the United States." U.S. Department of Education: Accessed March 06, 2020. https://www2.ed.gov/admins/finaid/accred/accreditation.html#Overview
3. "Benefits of Accreditation." Accreditation.org. Accessed March 06, 2020. http://accreditation.org/accreditation-resources/benefits-accreditation
4. "Reimagining the Role of Technology in Education: 2017 National Education Technology Plan Update." U.S. Department of Education. Office of Educational Technology. Published January 2017. Accessed March 06, 2020. https://tech.ed.gov/files/2017/01/NETP17.pdf