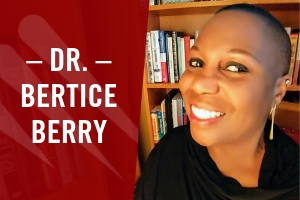 When working towards a lofty goal, there are often obstacles to overcome. Whether you're attending college while working full-time, juggling family responsibilities, or serving in the military, earning a degree is a significant accomplishment. On July 13, 2019, sociologist, Ph.D., and best-selling author, Dr. Bertice Berry, will share the strength in persistence and how to find inspiration among life's challenges with CTU's class of 2019.
Dr. Bertice Berry has been chosen to give the commencement speech at CTU's 2019 graduation ceremony to be held at the Colorado Convention Center in Denver. She will address over 1,600 graduates and thousands of supporters on the power of progress and persistence during her own journey to success.
Overcoming Challenges
Bertice Berry grew up poor in Wilmington, Delaware, where she was told she was "not college material." Fortunately, one high school teacher believed she could be so much more. Determined to defy negative expectations and with encouragement from her mentor, Dr. Berry was accepted to Jacksonville University and graduated magna cum laude.
Dr. Berry subsequently moved on to Kent State University, earning a Ph.D. in Sociology by the time she was 26. After graduation, she landed a position teaching sociology and statistics at the University. As a college lecturer, Dr. Berry was known for positively impacting her students through her use of humor and understanding to tackle tough subjects like racism and sexism.
After parting from Kent State, Dr. Berry continued to advance as an entrepreneur and became the best-selling author and award-winning speaker she is today. Among her many accolades, Dr. Berry was recognized nationally as Comedian of the Year (1991-1994), as well as Campus Lecturer of the Year and Campus Entertainer of the Year. She has also published 11 best-selling books and has won numerous awards and acknowledgments for her work.
Persistence is Key
Despite the success, Dr. Berry's personal desire to push forward and encourage others has remained at the forefront of her career. She believes persistence is one key characteristic that has made her who she is more than anything else. Dr. Berry defines persistence as something that causes you to aim higher:
"For a plane to fly, it needs resistance. Within us is a need to push against, and you can't get altitude without resistance. Persistence is an equal force against resistance. If a degree wasn't hard, you wouldn't want it!"
Pushing forward requires action and fighting the resistance. When you act, there is potential to break through barriers to attain goals. On July 13th, Dr. Berry will build upon this message with the CTU graduate community.
Progress and Self-Improvement
Furthering your education as an adult student requires you to break through barriers, whether they are physical, financial, or mental. To do so, first decide what you want, change your frame of mind, and believe you can do it. Dr. Berry encourages, There's never a point in anybody's life when education is not attainable for them. Education is for everybody all the time!
As you pursue your education, take time to establish a solid base to build on. Dr. Berry advises, "It's not what you know; it's what you do." Make studying a habit and go beyond what's required when necessary. As a master's student, Dr. Berry struggled with comprehension. So, she read her textbooks before her professors covered the material in class. She even researched older versions of her books, and she took multiple versions of notes.
Dr. Berry applied herself to improve her comprehension instead of listening to her past and believing she couldn't do it. "When you take the time to build the foundation, then everything else is easy," she shares.
Apply Lessons and Accomplish Your Goals
Achieving a degree with many responsibilities in tow can be challenging. However, once you overcome the hurdles: "Simply apply that difficulty to anything you face!" Dr. Berry suggests, "You've already overcome so much, and now you can accomplish anything!"
Colorado Technical University's 2019 commencement ceremony will be held at the Bellco Theatre in Denver, Colorado on July 13th. Find additional Information about commencement event on the CTU graduation webpage.