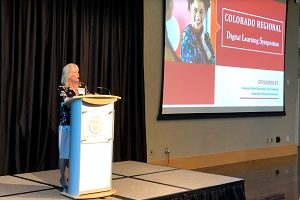 Fort Collins, Colo. – 3/01/2019 – CTU co-hosts regional symposium with Colorado State University, bringing together academic leaders, curriculum designers and faculty to discuss digital learning in online and blended classes.
The Colorado Regional Digital Learning Symposium, held on January 30, 2019, included plenary speakers and breakout sessions showcasing best practices of digital tools used to improve student outcomes in gateway courses.
Topics highlighted at the event:
Innovation, Infrastructure, and Digital Learning
Adaptive Courseware for Early Success
Designing a Culturally Competent Z Degree
What Campuses Can Learn from Online
Effective Curriculum Design Techniques Using Digital Tools
Scaling Adaptive Courseware to Improve Student Success in Class
CTU Provost and Chief Academic Officer Dr. Connie Johnson shared opening and closing remarks with Colorado State University (CSU) Provost and Executive Vice President Dr. Rick Miranda.
Dr. Johnson commented on the CTU and CSU co-sponsored event: The collaboration between institutions in Colorado to promote digital learning to improve student outcomes is inspiring. What was particularly exciting about this event was the range of institutions participating including state institutions, private institutions and community colleges.
This regional convening was also part of the work of the Association of Chief Academic Officers (ACAO) Digital Fellows Project, designed to provide provosts and CAOs with information, resources and strategies to help broaden the understanding and adoption of high-quality digital courseware. Dr. Laura Niesen de Abruna serves as Principal Investigator for the grant.
Conference materials and copies of the major presentations from the Colorado Regional Digital Learning Symposium are available online: https://provost.colostate.edu/digital-learning-symposium/
About Colorado State University
Founded in 1870 as the Colorado Agricultural College, Colorado State University is now among the nation's leading research universities, with annual research expenditures above $300 million. CSU currently enrolls about 33,000 total students, including 4,000 graduate students and 580 Doctor of Veterinary Medicine students, and has more than 1,800 faculty members working in eight colleges on the main campus in Fort Collins. The CSU System also includes CSU-Pueblo, the CSU Denver Center, and the online CSU Global Campus, all dedicated to fulfilling the mission of the land-grant institution to improve the lives of the citizens of Colorado and the world. More information is available at www.colostate.edu.
About ACAO Digital Fellows Project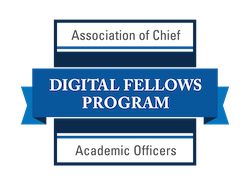 In January 2017, the Association of Chief Academic Officers (ACAO) launched an 18-month ACAO Digital Fellows Project designed to provide senior campus leaders (i.e., Chief Academic Officers or CAOs) the critical information, resources, and support they require to help their faculty understand and adopt high quality digital courseware that personalizes learning and leads to significant gains in undergraduate engagement, retention, and graduation.
Specifically, the project provides a unique professional opportunity for 31 provosts/CAOs ("ACAO Digital Fellows") that focuses on the adoption and deployment of courseware and digital learning resources intended to enhance student learning, increase retention and degree completion, and improve institutional outcomes. Learn more about the ACAO Digital Fellows Project at www.acao.org/digital-fellows-program.
---
About Colorado Technical University
For 55 years, Colorado Technical University (CTU) has helped students fit a real-world education into their busy daily lives. With more than 80 degree programs and concentrations in which students can pursue a variety of degrees at the associate, bachelor's, master's and doctoral level. CTU provides flexible online classes, accessible through the University's Virtual Campus or the innovative CTU Mobile app. CTU also maintains two ground campus locations in Colorado Springs and Aurora, Colo. With the help of faculty and industry professionals, CTU has awarded over 118,000 degrees to traditional campus and online students since 1965. For more information about CTU, visit www.coloradotech.edu.
Colorado Technical University is accredited by the Higher Learning Commission (hlcommission.org), a regional accreditation agency recognized by the U.S. Department of Education. CTU cannot guarantee employment, salary or career advancement CTU is a member of Perdoceo Education Corporation (NASDAQ:PRDO). For more information, visit www.perdoceoed.com.
Media Contact:
newsroom@coloradotech.edu