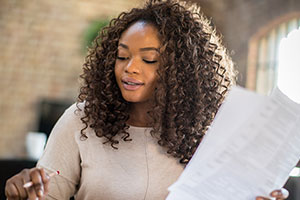 At the end of each year, New Year's resolutions are made, and some are broken. You promise yourself you'll study for two hours a night or work ahead on assignments. As you pursue your degree and set goals for the New Year, remember to focus on improving yourself outside the classroom as well!
What might you do to better your studies or your overall well-being? Consider the following resolutions for 2019.
Learn a new skill.
Have you ever wanted to learn how to speed read? Or, maybe you've thought about learning a new programming language. One trait of successful people is that they are constantly learning.1 With that in mind, consider picking one new skill to learn throughout the first few months of New Year. Maybe it will be something you can teach others or one that will benefit you in your coursework or current profession, such as improving your writing or problem-solving skills. Whatever it is, make sure it interests you and is something you find joy in doing! Then, commit to working on it for at least 20 hours in order to build your knowledge and expertise.2
Josh Kaufman, author of "The First 20 Hours: How to Learn Anything... Fast!" notes how deliberately practicing a new skill for 20 hours is enough to show great improvement yet not be overwhelming to the learner. As you begin, break the skill down into smaller parts and practice the most important parts of the skill first.2
Get more sleep.
According to the National Heart, Lung, and Blood Institute (NHLBI), sleep is often the "first thing that busy people squeeze out of their schedules."3 Yet it is a significant and vital part of life. Getting enough sleep can help to protect your mental and physical health and can lead to improvements in problem-solving and decision-making skills, and focus and creativity. But when you don't get enough sleep, your productivity at work and in the classroom can decline — completing tasks can take longer and you may also make more mistakes.3
Recommendations from the American Academy of Sleep Medicine (AASM) state that adults should get at least seven to eight hours of sleep each night. If you have trouble falling asleep, there are techniques you can try to help improve your sleeping habits and include the following:3, 4
Be consistent with your bedtime and the time you wake up.
Limit your screen time at night, especially an hour before you go to bed. The light from a screen can alert your brain that it's time to be awake.
Avoid large meals, nicotine, and caffeine before bedtime. Caffeine can affect your body for as long as 8 hours after consumption.
Eliminate any bright lighting from your bedroom and try to keep the room cool and quiet to encourage sleep.
If you're experiencing sleep problems, it can affect not only your studies but other aspects of your life. Your physical and mental health is important, so get some rest!
Read for yourself.
When was the last time you picked up a book for your own entertainment, to be inspired, or to help better your craft? Make time to visit a library or browse online bookshelves. You may discover a new interest or might choose to revisit an old one. If you're worried about finding the time to sit down and read, then commit to only reading one chapter. You know your schedule and whether you can commit to reading one chapter a day or one chapter a week. Either way, one chapter will get you further than not reading at all.
Spend time with friends and family.
We are constantly busy with everyday tasks like paying bills, answering emails, scheduling appointments, shopping for groceries, working, etc. But, life is short and circumstances can change in an instant. Make it a point to set aside time for family and friends throughout the New Year. Consider scheduling monthly dinners or even dates to get a cup of coffee to emotionally connect with those you love.
Write.
One way to reflect on your experiences and ambitions in the New Year is in writing. Keep a journal to establish a vision of your goals and to track your progress, such as for your academic ambitions or other areas of life. Writing may also help boost your self-confidence and happiness. Consider writing about things for which you are grateful. This can improve your optimism as you focus on the positive and not on the negative.1
Exercise.
Commit to regular exercise and do your best to stick with it. Routine physical activity can decrease the risk of a heart attack, lower blood cholesterol and blood pressure levels, and aid in weight management. Overall, you may find that regular exercise makes you feel better as it increases your energy, enhances your mood, and makes you feel more relaxed. This could help your studies, and you may even sleep better!5
Build a support system.
Do you have people in your life to support you as you pursue your educational or other life goals? Will they hold you accountable for meeting your objectives? A support team can encourage you to keep moving forward.1 Consider a few people who will offer their honest opinions without interjecting judgment or criticism, and will be available to you when times get difficult or stressful.
Life as a working adult and busy student can have its challenges. When you're actively balancing a job, coursework and a personal matters, you may neglect trying to improve on your own happiness. Be sure to set goals for yourself in the New Year that will benefit you and bring you growth!
---
1. Hayes, Julian. "How to Improve Your Life in 8 Steps." SUCCESS. Published September 05, 2017. Accessed November 20, 2018. https://www.success.com/how-to-improve-your-life-in-8-steps/
2. Schawbel, Dan. "Josh Kaufman: It Takes 20 Hours Not 10,000 Hours To Learn A Skill." Forbes. Published May 30, 2013. Accessed November 20, 2018. https://www.forbes.com/sites/danschawbel/2013/05/30/josh-kaufman-it-takes-20-hours-not-10000-hours-to-learn-a-skill/#75f116c2363d
3. "Sleep Deprivation and Deficiency." National Heart, Lung, and Blood Institute. Accessed November 20, 2018. https://www.nhlbi.nih.gov/health-topics/sleep-deprivation-and-deficiency
4. "Sweet dreams: Researchers explore link between sleep and health." National Heart, Lung, and Blood Institute. Published November 05, 2018. Accessed November 20, 2018. https://www.nhlbi.nih.gov/news/2018/sweet-dreams-researchers-explore-link-between-sleep-and-health
5. "Benefits of Exercise." U.S. National Library of Medicine: MedlinePlus. Updated August 22, 2018. Accessed November 20, 2018. https://medlineplus.gov/benefitsofexercise.html