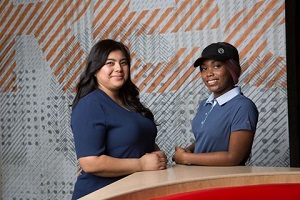 Since 2003, Colorado Technical University has developed educational alliances with companies looking to provide affordable and obtainable education to their employees. In particular, CTU's educational alliance with McDonald's USA, LLC, and its Archways to Opportunity™ program, has resulted in numerous graduates from McDonald's and independently owned and operated McDonald's restaurants.
Recently, McDonald's announced a new type of education initiative it will pursue with CTU, in the name of a particularly empowering cause.
Gender Balance in the Workplace
On International Women's Day 2019, McDonald's launched a "Better Together: Gender Balance & Diversity" strategy aimed to improve women's representation and gender equality in career advancement. Four pillars of the strategy (namely Representation, Rising, Recognition and Reach) will guide McDonald's in developing key milestones and leading a range of activities to promote gender balance in its stores and worldwide. Read about McDonald's full strategy.
In conjunction with the "Better Together" approach, McDonald's will be piloting a new "Women in Tech" initiative through its signature education and tuition assistance program, Archways to Opportunity, to enable women from company-owned restaurants and participating franchisee restaurants to study skills in technology. The pilot will start in the U.S. this spring and will work with Microsoft to provide the technical skills curriculum and CTU to deliver access to education.
CTU's Commitment to a Diverse Student Population
Colorado Technical University is proud to be a part of this empowering, gender-equality strategy and support McDonald's students. Part of CTU's core mission is "to provide industry-relevant higher education to a diverse student population through innovative technology."
CTU President Andrew H. Hurst echoes these sentiments, sharing, "McDonald's and CTU have joined together in the past to make pursuing a degree financially achievable for McDonald's students. With the addition of McDonald's new 'Women in Tech' initiative, we hope to provide a broadened opportunity for women to study data science, cyber security, and other technical fields."
For more information on the McDonald's educational alliance with Colorado Technical University, visit www.coloradotech.edu/mcdonalds. To reach the CTU Educational Alliances Center (EAC), email CTUEducationalAlliances@coloradotech.edu or call 844-783-8628.