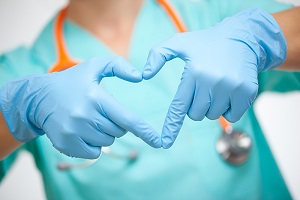 In celebration of Nurses Week 2018, we will be taking the opportunity to celebrate these nursing professionals through a special blog series. This year's theme of "Inspire, Innovate, Influence" helps us appreciate the importance of the work nurses do each day!
Becoming a leader requires adopting and developing certain skills. Self-knowledge, recognizing one's limitations and strengths, is an important quality in nurse leadership development. Another vital component to becoming a leader includes being able to sustain career optimism while facing disappointments and challenges. However, becoming a leader with a solid grasp on leadership characteristics and theories does not guarantee that all complex and difficult encounters will turn out as planned. The end result of a stressful situation will always end on a positive note if it is viewed as a learning opportunity.
Often in heroic terms, leaders are described by the following traits:1
Intelligent
Responsible
Persistent
Perceptive
Self-confident
Sociable
Articulate
Dominant
Determined
Trustworthy
Dependable
Friendly
Tolerant
Influential
Motivated
Outgoing
Leadership in Nursing
Becoming a leader is a process that can be guided by the following three steps:
Know Thyself – Most people are completely delusional about their own skills and capabilities. Researchers have found that most people overestimate their talent and that the least competent people were the worst at recognizing their incompetence.1 The first step in knowing thyself is examining your objective measures for success. A nurse leader may look at departmental staff retention rates. Next, look at your subjective measures. The easiest way to do this is to find someone who will tell you the truth.1 Ask them about what you do well. Have them share things that may be getting in the way of increasing your skills and knowledge. Ask them about what you can do better. Seek the truth.
Pick One Thing to Work On – Once someone has received feedback on their leadership skills, people are usually ready to act, and they try to change everything. It is far better to make progress on one thing than little to none on many things. To pick that one thing you are going to work on, create a list with two columns. In the left column, list all of the things you would like to improve. Say you wrote down 10 things. On the right side, rate those left column items from one to 10, with 10 being the one thing you would like to improve on the most. Remember to use the subjective measures you have gathered from that honest friend or colleague of yours.
Practice Daily – One becomes exceptional by earning it through daily practice. Are some people born great? Sometimes. With effort and commitment, though, almost anyone can be a better leader. Ninety-six percent of leaders can improve.1 Improving your leadership skills requires a daily commitment to practice. Ask yourself daily the following: (a) What will you practice today? (b) What opportunities will you have to do it? (c) How will you measure your progress?
Continuous Improvement
Becoming a nursing leader with positive outcomes requires daily work. Even the most experienced of leaders can improve. Guide your leadership development by knowing yourself, picking one task to work on, and practicing new skills daily. Everyone is a work in progress. Leadership is a constant struggle for improvement.1
Are you ready to learn more about nursing at CTU? Request information about our degree programs!
---
1. McBride, A. B. (2011). The growth and development of nurse leaders. New York, NY: Springer.