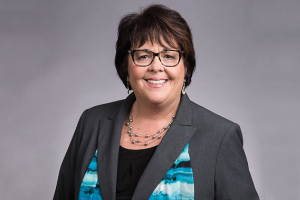 The nursing profession is based on the science of human health and caring, and because of that, nurses hold unique roles in the healthcare space. To be influential, nurses must view themselves as professionals with the capacity and responsibility to influence not only new staff and nursing students but also the current and future healthcare delivery systems. It operates from a framework that values all people in a holistic way and seeks to foster and advance people's health throughout their lifespans and across all levels of society.1
If there is one nurse who upholds the quality of care, it's Dr. Ruth Tarantine, Dean of Nursing at Colorado Technical University (CTU).
One Nurse's Journey
Ruth Tarantine wasn't a natural-born student. In fact, she classified herself as an "academic late-bloomer." "Neither one of my parents went to high school—they only completed up to eighth grade. I disliked high school, and even though I graduated high school, I graduated at the bottom of my class. I just wasn't engaged academically, and really had no interest in it initially." However, a spark was ignited when she volunteered as an EMT and firefighter in her early 20s. That experience left a lasting impression and influenced her enough to send her down the path of nursing.
"I found I had an interest in the sciences and helping people. I was drawn to that area, but I wanted something that had longevity and would allow me to stay in one profession, but also change positions based on my interest. I'm someone who can get bored easily, and nursing offers so many avenues and different specialties. It provided a lot of options so I wasn't pigeonholed into one area," she shared.
Ruth started off with a general nursing education. "I went into a Sisters of Mercy, faith-based pre-licensure diploma program, completed that, and got hired into a liver transplant ICU post-graduation. Transplants have always been my passion. There's no rhyme or reason – I just love the science of it," Ruth explained. It wasn't until 1999, ten years after completing her pre-licensure program, which she realized she needed to go back to school in order to move into other positions within the field. When she started taking more advanced nursing courses, she became excited about learning. Ruth loved the material so much that she ended up finishing her Bachelor of Science in Nursing (BSN) at Carlow University and went on to obtain her Master of Science in Nursing (MSN) from the University of Pittsburgh and Doctor of Nursing Practice (DNP) from Chatham University.
"I just kept going. The key to being successful in learning had to do with the relevancy of the content. As long as I found the content relevant to my interest and my passion, I stayed engaged and did well. And it took me a long time to realize that, because up until that point, I thought I wasn't a good student. In reality, it wasn't that. I just had not been interested in what was being taught."
Nursing at Colorado Technical University
Dr. Ruth Tarantine started with CTU in 2015 and came for one reason only – to foster innovation. She was ready to create change and knew she had found an opportunity to do something different in the nursing education landscape. "One of the first things I did was revise the nursing curriculum so that any student that enters the program starts off with nursing courses first – so they can begin connecting with something they love right away. I now know that I'm not atypical, even though I thought I was before. There's nothing better than being excited about what you're learning; it takes the learning to new heights."
Nicole K., an MSN student at CTU, spoke to the excitement of continued learning, "Once I started to practice as a nurse, I found that there is so much to learn and so many avenues to pursue that I tried to get as much education, certifications, and knowledge that I could. I love learning about how something is researched and tested, to become a common intervention, to facilitate better care and patient outcomes."
Ruth's shift in nursing coursework is designed to set students up for success, regardless of prior learning; she shared, "CTU takes what for many universities is a traditional model and delivers education based on personalizing that experience for their students. The incorporation of adaptive learning at CTU demonstrates their commitment to this personalization. In nursing, people come back to school with varying levels of experience and competencies –adaptive technology helps them bypass what they already know, and focus on what they don't."
Ruth's goal was to lessen the professional divide that typically occurs when nurses graduate and scatter into their preferred specialties, such as obstetrics, psychiatry, or pediatrics. "There are many nursing programs all over the country. However, CTU has adaptive learning in the baccalaureate, masters, and doctoral programs – that's unique. Some colleges may have adaptive learning in one class, but CTU offers adaptive learning in every single course throughout all of our nursing programs."
Ruth's students influence her daily: "Obviously, I'm facilitating the learning, but my students have a lot to share because they're practicing nurses themselves. They're working at the bedside or as leaders in hospitals. So, they have a lot to teach and give me as well. It's a give and take, and that's just nursing. What I love most about working with nursing students is the passion that they exhibit for doing the right thing."
At the end of the day, it's about patient autonomy and nurses advocating for their patients. When you boil it down, that's what Ruth loves most – the fact that it carries over into the classroom. CTU MSN candidate, Jennifer B., is a perfect example of that. Her passion is evident: "As nurses we wouldn't be able to advocate for our patients if we didn't possess leadership skills such as caring, compassion, integrity, dedication, and commitment. I hope to positively influence change and to be a source of inspiration to my fellow nurses as we move forward during these times of growth and transformation in the nursing profession."
Nurses "Inspire, Innovate, and Influence"
"Anyone will tell you, the passion can be a blessing and a curse, but it's always rooted in doing the right thing. It's going to bat for someone who can't speak for themselves," Ruth explained. The state of healthcare as we know it is in the midst of a tumultuous time; there are many potential changes occurring in the healthcare landscape. Despite such uncertainty, Ruth remains positive and confident that nurses will continue to find innovative ways to maintain the delivery of quality care and inspire and influence others simultaneously. This includes not only in the nursing profession itself but also outside of it – in areas of healthcare policy and practice in order to deliver the best patient care possible.
"It's always about quality patient care, regardless of what the nurse does – always, every day. Whether you're talking about inspiration, innovation, or influence, it's always about driving quality patient care and creating optimal patient outcomes."
---
1. Burke, Sheila A. "Influence Through Policy: Nurses Have a Unique Role." Reflections on Nursing Leadership. June 2, 2016. Accessed April 26, 2018. https://www.reflectionsonnursingleadership.org/commentary/more-commentary/Vol42_2_nurses-have-a-unique-role