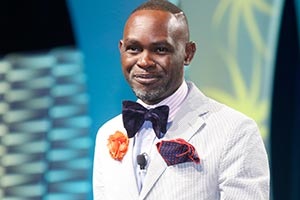 For most students, commencement is a hallmark of success. Diplomas are waved. Families cheer. Graduates post celebratory smiles on social media. But on June 9th, former refugee turned human rights activist and CEO Dr. Derreck Kayongo will remind Colorado Technical University's graduating class of 2018 how important it is… to make mistakes.
Derreck Kayongo has been chosen to give the address at CTU's 2018 commencement ceremony, which will be held in the Bellco Theatre at the Colorado Convention Center in Denver. While known for his emotionally-packed presentations and humanitarian messages, Dr. Kayogo was also invited to address CTU students and their supporters for his unwavering commitment to education over results. "Graduation day is a celebration of continual growth and progress," shares Dr. Kayongo.
Dr. Kayongo was awarded an honorary doctorate from Oglethorpe University and is a graduate of the Fletcher School of Law and Diplomacy at Tufts University. A native of Uganda, he and his family fled a civil war and sought refuge in the U.S. when he was only ten years old, and it's this journey that became the catalyst for a lifelong dedication to ongoing work and learning. Dr. Kayongo shares the experience that has taught him to ask: "What are you going to do after you've overcome adversity?" The answer, according to Dr. Kayongo, is to keep working. "If you forget to keep working, you'll find yourself back in an adverse environment."
Dr. Kayongo is celebrated as a renowned entrepreneur, former CEO and expert in sustainability and global health. As the founder of the Global Soap Project, Dr. Kayongo donated, melted, purified and reprocessed hotel soap (a first line of defense to combat disease and child mortality) for use in at-risk populations around the world. Presently, 5,500 hotels in the United States are members of the Global Soap Project Recycling program, and the list of participating countries has grown to 90. Global Soap recently partnered with Clean the World, and Dr. Kayongo was named one of CNN's "Top 10 Heroes" in 2011.
Despite the global recognition and accolades, however, Dr. Kayongo admits he finds more value in errors and adversity. "Success is a very interesting idea. It has a close cousin called failure… Error helps you sharpen your skillsets. With error, you practice. You become consistent. You become reliable. These steps lead to success."
It's this message Dr. Kayongo is looking forward to sharing with the CTU community on June 9th. Recognizing that many CTU students have earned their degrees in seemingly adverse circumstances – while raising families, serving in the military, and working part-time or full-time jobs – Dr. Kayongo will remind graduates that error and failure are inevitable and welcome occurrences. "You have a template now of how to fight to the very top," he shares.
Following his departure as CEO of The National Center for Civil and Human rights, Dr. Kayongo joined the board of trustees for Helen Keller International, an organization dedicated to improving sight in vulnerable populations worldwide. Not one for rest, Dr. Kayongo's life purpose is to promote projects that embrace what he refers to as "S.E.L.F.," his four core values – service, education, leadership and faith – and is clearly living by his own advice: "Your journey is always to advance, to change. And even adversity serves its purpose to move you forward."
Colorado Technical University's 2018 commencement ceremony will be held at the Bellco Theatre in Denver, Colorado on June 9th. The university will offer live streaming of the event on the CTU Facebook page.
Additional Information about commencement can be found on the CTU graduation webpage.