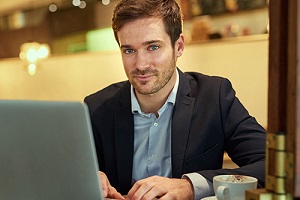 Every student has experienced an intellectual shutdown or creative disruption at some point. Writer's block, for instance, is real and can make it difficult to focus on your studies. It varies for everyone and can range from feeling mentally "stuck," to getting a headache, losing your muse or inspiration, or simply lacking focus – essentially your mind may just wander from one thought to the next.1 You might feel like you've lost your creative edge, but fortunately it's a common struggle that you can overcome.
First, loosen up, and then read below. Here are five ways to reset your mind and overcome writer's block:
Use a different writing tool.
Whether it's a paper, project or presentation – change up your execution strategy. Increase your font size, change from a serif to a non-serif font, or adjust the font color. Swap out writing tools – move from Microsoft Word to Google Docs, type directly into WordPress, or ditch technology altogether and try your hand with a pen on paper. It might seem silly, but sometimes small changes can bring your imagination back to life.1
Go for a walk.
Sometimes it helps to physically step away for a second – move your body around. Do something that gets your blood pumping. Take a walk, go for a run, or practice some yoga poses. When you get your body flowing, the mind usually follows. Meditation and breathing exercises can also help. A relaxed mind is an open mind and may help you find focus.2
Eliminate distractions.
Unplug – turn off your phone, shut down your computer, and clear your workspace. Allocate a few hours in your schedule to study or write in silence and solitude and ask loved ones to respect your space. Alone time without distraction is sometimes necessary to clear your mind and reset your writing goals.2
Listen to music.
According to New Scientist, a recent study suggests that listening to "happy" background music might relate to increases in creativity. Researchers defined "happy music" as classical music with "positive valance" and "high arousal." Upbeat tunes may induce the production of dopamine, a neurotransmitter that relays pleasure, which increases creative thinking and goal-directed working.3 Try mixing it up by listening to different styles – indie, classical or jazz – and see what sounds best to you.
Create a new routine.
Try writing early in the morning before breakfast or at night before you go to sleep. Just as you would set a schedule for work, create daily routines and set hours for schoolwork or writing in order to foster inspiration and complete tasks in a timely manner. Change your environment around – try working from a library or in your home office to see where your best brainstorming happens.4
There are many causes of writer's block – anything from bad timing, to fear or an obsessive need for perfection. Let it all go! Know that making adjustments along the way is a part of the process. Whether you're drafting a research paper, a discussion board post, or a simple email to your professor, create something that showcases your skills and makes you proud.
---
1. Duistermaat, Henneke. "Writer's Block: 27 Ways to Crush it Forever." SmartBlogger. Last Updated December 18, 2017. Accessed December 22, 2017. https://smartblogger.com/writers-block/
2. Sambuchino, Chuck. "7 Ways to Overcome Wrtier's Block." Writer's Digest. May 5, 2013. Accessed December 22, 2017. http://www.writersdigest.com/editor-blogs/guide-to-literary-agents/7-ways-to-overcome-writers-block
3. Daley, Jason. "Got Writer's Block? Try Listening to Happy Music." Smithsonian.com. September 8, 2017. Accessed December 22, 2017. https://www.smithsonianmag.com/smart-news/happy-tune-may-make-you-more-creative-180964813/
4. Goins, Jeff. "How to Overcome Writer's Block: 14 Tricks that Work." Goins, Writer. Accessed December 22, 2017. https://goinswriter.com/how-to-overcome-writers-block/