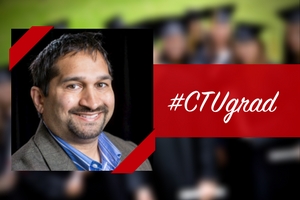 Many professionals look for ways to improve their careers and expand on their future potential. Some attend industry-leader seminars and stay up-to-date on business news, while others look towards a goal of higher education. Business professional and Colorado Technical University (CTU) alumni Shazad Carbaidwala chose the latter. He enrolled in an online graduate degree program in the pursuit of becoming a company executive or starting his own business. Carbaidwala graduated from CTU in 2005 with an Executive Master of Business Administration (EMBA) and has since opened multiple startups, works as a project manager on a high-performing team, and is even compiling his first autobiographical fiction publication.
Looking for More
Shazad Carbaidwala began his career after receiving a bachelor's degree at a traditional university campus. While Carbaidwala received a valuable education and opportunities as a dedicated student athlete playing football, he wanted a flexible and fulfilling program to pursue his graduate degree. "CTU online offered me a more comfortable learning environment, allowing me not only to focus on school but also continue my professional career," Carbaidwala stated.
Before receiving his EMBA, Shazad had meaningful experiences working for CTU as an admissions advisor. While in this role, he was drawn to the quality educational and experienced faculty that CTU offered. "You get a lot of one-on-one attention in a virtual setting," Carbaidwala shared. He then enrolled in graduate classes in late 2004.
Success with an EMBA
Since receiving his master's degree in 2005, Shazad Carbaidwala has started a nutritional company, working as a dietary consultant and workout coach. While still managing the nutritional business, in the past few years, he has also opened a landscaping business and personal training studio. "With the education I obtained from CTU, I gained knowledge on how to start my own business," Shazad commented. "It gave me the real-world based experience I needed to start from scratch."
Currently, Carbaidwala is employed as a project manager for an enterprise application software company. Accountable for project delivery, expectations and budgets, he has been a consistently high performer and was recognized by his employer for his superior work and company service. Carbaidwala has received two "Project of the Quarter" accolades, multiple awards, and numerous peer appreciation honors.
Shazad was also recognized by his workplace for his volunteer work with the "Service Hero" award. This prestigious award is given to an employee who epitomizes the core values of humanitarianism. Working for a global employer with over 80,000 employees, he received this award for his years of service and commitment to volunteerism. Shazad was able to donate $500 to any charity of his choice, so he gifted the money to Community Health, Housing, and Social Education as well as Sai Educational Rural and Urban Development Society. This money provided groceries, medicine and hot meals to families in India and Pakistan.
An EMBA degree from Colorado Technical University, along with a tireless drive and dedication, has enabled Shazad Carbaidwala to grow in his career. "If you want a better education, you have to give it your full attention," he shared. "You might need to become a full-time student, but with an accelerated program and quality academic resources, you can be successful."
CTU offers multiple MBA concentrations, such as in Entrepreneurship, Global Leadership, Project Management and Technology Management. Courses are taught by experienced faculty who are well-informed in their fields of study and use practical knowledge in lectures, course materials and assignments.
More Than Just a Degree
Shazad Carbaidwala was very focused on achieving his Executive Master of Business Administration from CTU and charging ahead with his professional career. However, he also had an interest in pursuing a long-time personal bucket list item: publishing a book. Carbaidwala recently wrote an autobiographical fiction publication that follows a prison inmate sentenced to death row. The story shares the character's memories and experiences in an intriguing account of personal development and realizations, ultimately before the end of his life. The book is expected to be released by the end of 2017.
Alongside writing, Shazad Carbaidwala enjoys devoting his time to helping others. He serves as a mentor and motivational speaker at a maximum security prison, volunteers as a local auxiliary police officer, and assists refugee humanitarian efforts and local shelters.
Through his educational pursuits, professional goals and personal experiences, Carbaidwala continually sees the value in spreading the message of self-improvement and seeking more. "Earning my Executive MBA at CTU helped me springboard in my career," he said. "But, it has also aided my personal development. I was able to become more diversified, not only as a professional but as an individual."
Learn more information about CTU's graduate degree programs.
1215074 9/17